Thanks for visiting with us today during the Mega Blog Hop for JustRite featuring Fonts. JustRite is celebrating their Mega Font Hop in style (a 2 Day Event with 54 designers) with a Super 7 Day Font Sale. Take 30% off all JustRite font sets as well as the Horizontal and Vertical Font Stampers. Sale begins Sept 17th and ends Sept 24th.
My project is a Christmas Card log – that will hold your Christmas Cards and allow you to keep track of them for 5 years. This is something I do each year as I can't stand to throw away old cards. The secret weapon I used is HERE. That's right, this is a project that's perpetual, by using my fonts, I can keep it updated and always have a place to stash and track my cards. I started out with a hard back book I purchased at the dollar store and stripped out the insides. I created sides out of velvet and lined the inside with velvet backed with cardstock while using Zip Dry Glue and lots of Red Tacky Tape. (For those with a fear of fabric, this project can also be done using cardstock, I would imagine). I glued trim and ribbon on the outside and embossed on the front of the book using a border from Just Rite Old Fashioned Christmas. The border is then decorated with gold pearls, Spellbinders Fancy Tags and a name plate that says Christmas Card Log in the JustRite Brayton Font
I developed a set of cards to file away with the old Christmas cards. As file tabs I used Spellbinders Fancy Tags and stamped the date on each tab with Justrite Brayton Font.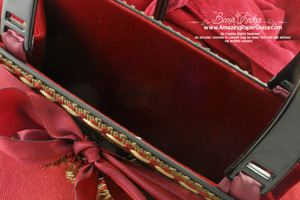 Here's a view from the inside :)
Project Recipe:
Stamps: JustRite Brayton Font, JustRite Old Fashioned Christmas
Paper: The Paper Company
Ink: Memento Black Tuxedo, Versafine Black Onyx
Accessories: Spellbinders Fancy Tags, Gold Pearls, Velvet, Tassel Trim, Burgundy Ribbon, Purse Handles, Old Book, Clear Embossing Powder, Gold Embossing Powder
Keep in mind…there is Mystery Blog Candy being given away during the Two Day Just Rite Font Blog Hop!!! Why is it a Mystery…..well, there will be 3 blog candy giveaways on each day and you can only win by leaving a comment on the right blog! The real surprise is you won't know which blog has the candy…..even the designer doesn't know! So as you visit each of the 54 designers over the two day event take time to leave a comment…..who knows, the lucky winner may be you!!!!! You have until Sunday at noon to leave a comment for your chance to win. Then check back at the JR Blog on Sunday evening to find out who won!!!! Enjoy the Hop, get ready to see some amazing stuff!

JustRite Stampers
Michelle Wooderson
Sankari Wegman
Heidi Blankenship
Eva Dobilas
Beate Johns
Sharon Harnist
Barbara Anders
Sharon Johnson
Deb Saaranen
Becca Feeken (that's me)
Kazan Clark
Lauren Meader
Tammy Hershberger
Linda Beeson
Jenny Gropp
Lori Craig
Tanis Giesbrecht
Jenn Balcer
Lisa Somerville
Karen Maldonado
Pamela Smerker
Karen Taylor
Latisha Yoast
Julie Overby
Mary Pfaff