I have a little confession to make . . . there was something else I was supposed to be working on, but the draw of this paper made me take a break and make this card. I bought this paper about two weeks ago and was going to reward myself by working with it after I finished some things I had on my list to accomplish. I sure don't know what giving in to that indulgence means but at least after a week of it calling out to me from my work table, I have the draw of this most pleasant distraction out of the way.
Speaking of other things that have been calling my name, there are new goodies from JustRite and the hardest part has been deciding which one I wanted to touch first. A hard choice for sure, but I chose to work with the new Birthday Wishes Set and make a Birthday card to begin to replenish my totally depleted stash.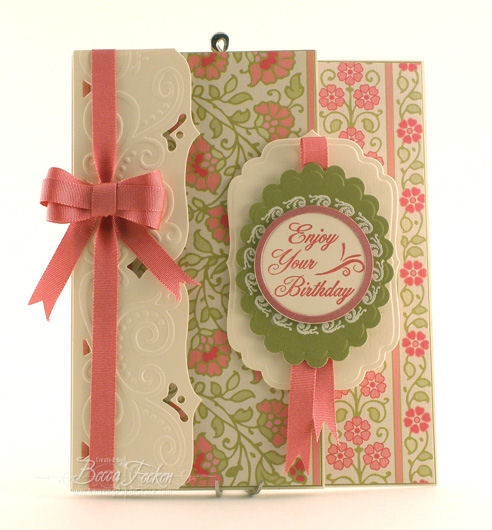 This paper was certainly my inspiration for the layout of the card; it took exactly one sheet of the 8" x 8" paper minus a couple of slivers on the sides and top. The card opens from the side and the medallion with the sentiment sits on the edge of the card opening.

On top of the largest Spellbinders Labels Four die, I layered a Scalloped Oval that I embossed with this beautiful JustRite border. On top of that I layered a Spellbinders Standard Circle that I stamped with the JustRite Birthday Center.
I've found that Chalk Ink dries too quickly to use the Reverse Stencil technique so instead I opted to cut a thin border by using a Spellbinders Standard Circle Small and Standard Circle Large and it makes a rim that fits perfectly around the JustRite Birthday Center yet also fits perfectly within the embossed border on the Scalloped Oval.
Next I added the Grand Heirloom Border – it's a 12" border but it trims down beautifully for tall cards. I didn't want to cover up a thing on this border so I added thin ribbon. I made the bow with the use of an old friend . . .


earlier this week Debbie Olson mentioned using some ribbon pegs to make her bows and it reminded me of the handmade tool below I used years ago when I began handmaking my own Christmas cards. It was nearby on my shelf, so I got it down and it brought back many pleasant memories. I remember that I made this because in the beginning I got so frustated trying to make a decent bow. I got a block of wood and drilled some equally spaced holes and put some dowel rods in the holes. One of the first years I made Christmas cards (sadly this hasn't happened for a couple of years) I made a card with a bow like I have on my card today, except there were three of them and I made 40 forty cards! I took this "bowmaker" in the car with me and everywhere I spent idle time, so that every time I had a couple of free moments, I could knock out some of those 120 bows I had to make. Is it any wonder it ended up on my shelf? I'm eager to see the new version of this tool too!
Oh, I forgot to add – many of you have asked if I would recommend which JustRite stamps to start with. If you have been keeping up with the JustRite blog, Kellie has the answer for you inquiring minds – just check out this post HERE.
Thanks so much for stopping by – even when I get long winded like this!