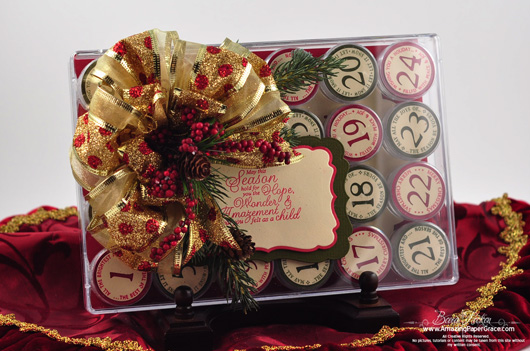 Greetings!! Welcome to JustRite Stampers' newest Wednesday feature, 12 Weeks of Christmas Blog Hops – Week 8! Every Wednesday up until Thanksgiving some of your favorite designers will be joining some of the JustRite design team for a series of Christmas blog hops, showcasing JustRite's entire Christmas Collection of stamps! And don't forget that JustRite has some Christmas stamps in their newly released CLING line of stamp sets — you can find them HERE. This week, the designers joining the JustRite design team are the Flower Soft and The Shabby Tea Room challenge blog design teams! So mark your calendars for Wednesdays at 9am Central for great Christmas gift, card & project ideas, starting at the JustRite Inspiration blog!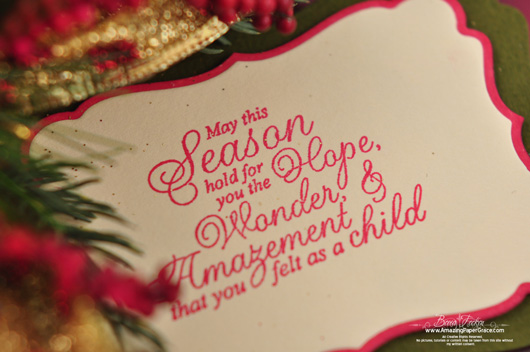 I know I've been missing in action but this is one the items I've worked on sporadically throughout the month during some quiet time. I wanted to make an Advent gift and I had this bead storage box but it only had 24 containers. After thinking about it a little bit, I worked it all out. On the lid I used some garland and sparkly, glittery ribbon and alongside I nestled an elegant sentiment using JustRite Stampers Original Christmas Nested Sentiments, cut with Spellbinders Labels Seventeen. Each of the clear containers uses a sweet border from the JustRite Stampers Original Holiday Cheer Centers and Borders set using an EK Success 1 1/4" punch to cut the border and Spellbinders Standard Circles LG #2 to cut each red or green mat layer. They are the perfect size to cover the top and the bottom of the clear round boxes!!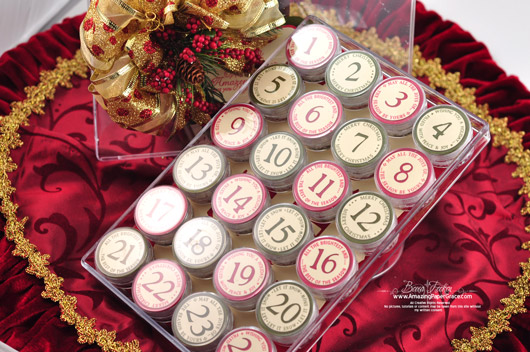 Inside I sprinkled a little bit of snow and for this gift, the recipient is getting a different pair of earrings in each clear container – 24 all together.




As the recipient takes out each container, she will see that there is another surprise at the bottom that she will get to open on the 25th day. Torture, I know . . .right?!?




There is a large card holding the final surprise that I made using Spellbinders Grand Labels Four. When you peek inside, there is a gift card.



Project Recipe:
Stamps: JustRite Original Stampers Holiday Cheer Borders and Centers, JustRite Original Stampers Christmas Nested Sentiments
Paper: Bazzill
Ink: Colorbox Chalk Ink – Warm Red, CTMH – New England Ivy
Accessories: Spellbinders Labels Seventeen #4 and #5, Spellbinders Grand Labels Four, Spellbinders Standard Circles Large #2, Ribbon, Bead Storage Box, 1 1/4" EK Success Round Punch, Glue Dots, Garland, Snowflakes, Earrings, Gift Card
Many of you have asked so I thought I would share a small update. John is resting at home, but we spent several days in the hospital and we returned home Monday night. It was unexpected and I was stuck without internet and a change of clothes. With his condition there's a lot to manage to get him on the right track. Thankfully, my sweet daughter was to the rescue. Today is a good day, but I know it's a long journey back to perfect health. One foot in front of the other, I'm strong and willing to look forward. Many of you have written to me sharing similar stories – please know that gives me strength. Thank you for continuing to visit and lift me up. I am immensely blessed and humbled by the kindness of my online friends. More posts coming while I'm home :-)
Please visit these designers' blogs to see what fabulous JustRite Christmas inspiration they have for you on the hop today!
JustRite Design Team:
Sharon Harnist
Angela Barkhouse
Sankari Wegman
Stephanie Kraft
Kazan Clark
Michele Kovack
Kellie Fortin
Barb Schram
Debbie Olson
Becca Feeken (you are here!)
Heidi Blankenship
Flower Soft Design Team:
Jeanne Streiff
Debbie Seyer
Gini Cagle
Linda Beeson
Deb Felts
Cibele Glazer
Vicki Garrett
Dina Kowal
The Shabby Tea Room Design Team:
Debbie Marcinkiewicz
Nicole Segnere
Clare Buswell
Pattie Goldman
Lisa Golzbein
Cathy Clark-Sanite