Hello there!! I have a simple project to share that I hope you'll enjoy. By the way, welcome to JustRite Stampers' newest Wednesday feature, 12 Weeks of Christmas Blog Hops – Week 7! Every Wednesday up until Thanksgiving some of your favorite designers will be joining some of the JustRite design team for a series of Christmas blog hops, showcasing JustRite's entire Christmas Collection of stamps! You also might see some projects from the JustRite design team, using some of our newly released CLING stamps! You can find our new collection of cling stamps HERE. This week, the designers joining us are most of the Spellbinders and Caardvarks design teams! So mark your calendars for Wednesdays at 9am Central for great Christmas gift, card & project ideas, starting at the JustRite Inspiration blog!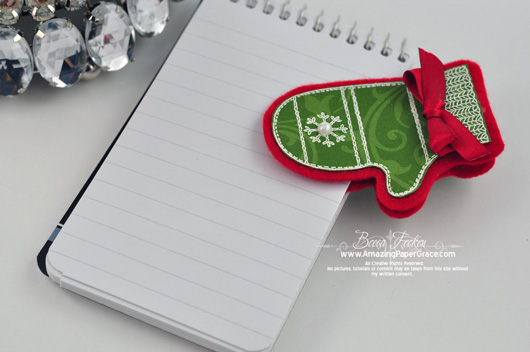 For my project simply had to make a pair of felt covered, stamped mitten clips. Using JustRite Stampers new cling set called Sparky the Snowman – Cling and Spellbinders Nested Mittens, I had the perfect excuse to try a pair and it was far simpler than I thought. I simply stamped and embossed the mitten then cut it out leaving very little margin. Then using the medium nested Mitten die, I cut two from felt. I re-purposed a hair clip that I found in the bathroom – I don't know what the "real" name is, but it is metal and is similar to a clothespin in that when you press on both sides of the end, on the other end it opens like a mouth. I cut a small slit at the top of my felt and inserted the hair clip between my two pieces of felt so that in the end I would have paper, clip, felt, felt, clip, paper – the clip is sandwiched between the paper and felt.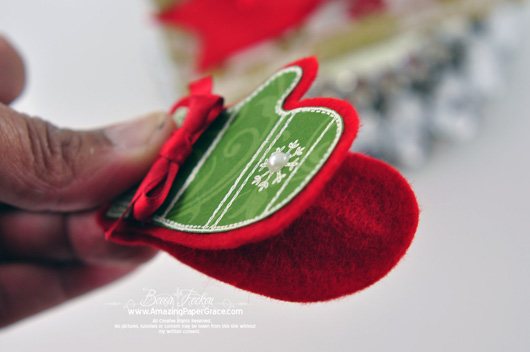 I kept my card very simple as it's intended to hold the clip when giving as a gift. I centered a sentiment using Spellbinders Petite Ovals Small and Fancy Tags then tied a bow. The Mitten Clip simply clips on the side of the card.
Card Recipe:

Stamps:

JustRite Stampers – Sparky the Snowman – Cling


Paper: My Minds Eye, Bazzill
Ink: Versamark with Ivory Embossing Powder, red ink
Accessories: Spellbinders Fancy Tags, Spellbinders Nested Mittens, Spellbinders Petite Ovals Small, Ribbon, Hair clip, red felt, pearls
Please visit these designers' blogs to see what fabulous JustRite Christmas inspiration they have for you on the hop today!
JustRite Inspiration Blog
Spellbinders Blog
Debbie Olson
Kimberly Crawford
Sharon Harnist
Beth Pingry
Amy Crockett
Kellie Fortin
Latisha Yoast
Becca Feeken
Lucy Abrams
Sankari Wegman
AJ Otto
Beate Johns
Heidi Van Laar
Kazan Clark
Julie Overby
Peet Roeven
Michele Kovack
Judy Hayes
Kathy Racoosin
Stephanie Kraft
Terre Fry
Angela Barkhouse
Holly Simoni
Heidi Blankenship
Thanks to all for your well wishes, each one brings a breath of hope. I'm at a loss for words over my hubby's health it's nothing less than a roller coaster. Knowing we have our faith, friends and the love of family helps us put one foot down in front of the other and keep going. Please continue your prayers if you can, both John and I appreciate it.
Hugs,
Becca