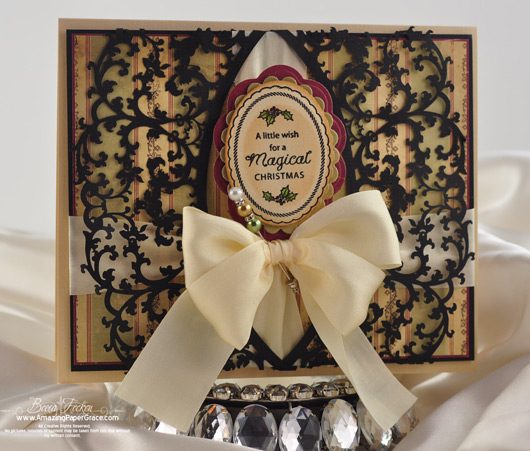 Welcome to JustRite Stampers' newest Wednesday feature, 12 Weeks of Christmas Blog Hops #4! Every Wednesday up until Thanksgiving some of your favorite designers will be joining some of the JustRite design team for a series of Christmas blog hops, showcasing JustRite's entire Christmas Collection of stamps! This week, it's the Spellbinders design team! So mark your calendars for Wednesdays at 9am Central for great Christmas gift, card & project ideas, starting at the JustRite Inspiration blog!
Just this past week readers shared their thrifty tips on how frugal they are when they craft and during life in general. After reading so many great comments it had me thinking how satisfying it is to find something, a left over perhaps from another part of my life that I am then able to use in crafting. My mind settled on some pretty, pretty lace cupcake liners I used for a gift quite some time ago. I had several of them left over and I used them on my card today. Those black cupcake liners, like most liners, have a curve. I used this to make an arch to highlight the JustRite stamps that I used for my Christmas Card. I just love the filigree look, I think it makes a stunning backdrop!! I ran my ribbon right behind the filigree since you can see through it.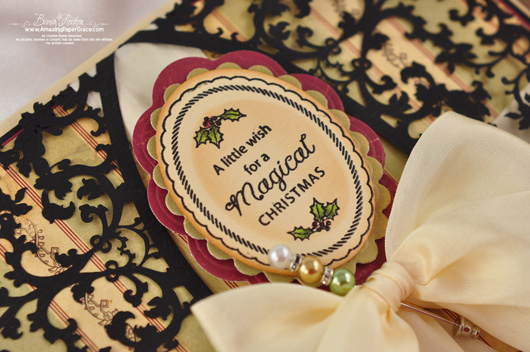 I picked JustRite JB-08770 Christmas Joy as my focal image. It's a tried and true sentiment from the JustRite Christmas Collection. I love the vertical oval and it matches several of my Spellbinders perfectly. For the oval medallion I layered Spellbinders Big Scalloped Ovals SM , then Spellbinders Classic Scalloped Ovals SM and lastly Spellbinders Classic Ovals SM. My image is colored with Copic Markers. I used the two cupcake wrappers by just folding them over the edge of my card and taping them on the back. I tried and tried to slather pearls all over this but my spidey sense just said no. Instead, three understated pearls on a cosage pin break up the strict symmetry.

How are you coming on your Christmas cards. I promise you, we'll be there before you know it!! So how was my attempt to be frugal today? If you like it and would like to see more items like this, please leave a comment to let me know :-) In the mean time, please visit these designers' blogs to see what fabulous JustRite Christmas inspiration they have for you on the hop today!
Card Recipe:

Stamps: JustRite JB-08770 Christmas Joy
Paper: Cosmo Cricket, Bazzill
Ink: Versafine Onyx Black
Accessories: Cupcake liners (Hobby Lobby), Spellbinders Big Scalloped Ovals SM, Spellbinders Scalloped Ovals SM, Spellbinders Classic Ovals SM, Pearls, Corsage Pen, May Arts Silk Ribbon, Copic Markers
JustRite Inspiration Blog
Spellbinders Paper Arts
Becca Feeken
Mona Pendleton
Debbie Olson
Ashley Cannon Newell
Sharon Harnist
Eva Dobilas
Kazan Clark
Beate Johns
Kellie Fortin
Margie Higuchi
Kathy Jones
Regina Hanson
Sankari Wegman
Deborah Young
Angela Barkhouse
Michele Kovack
Terre Fry
Barb Schram