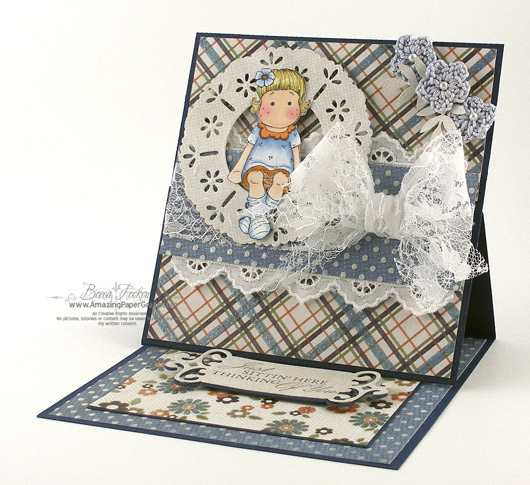 This month Suzanne Dean challenged all the members of the Magnolia-licious Design Team to make an easel card. It took me a little bit to get my mind around the idea, but I put one together and I actually like the whole easel thing :D. I used #362 – Berry Tilda and Sentiment #703 – Just Sitting Here. If you're interested in seeing how it is put together, here's a link to the template and to the instructions. I scaled the size of my card up to be 6" x 6" but you could very well stay with the 4" x 4" size.
This is the secondary panel that props up the main panel – when the card is collapsed and opened as a regular card, this is the panel you would see. I pulled coordinating papers from My Minds Eye – Pretty Posies and colored Tilda with Copic Markers. I have her perched on a Spellbinders Eyelets Pendant and the sentiment sits on a Spellbinders Fancy Tag. I used real lace for the scalloped borders and this exquisite ribbon is May Arts Lace Ribbon.
During the month you can check out other easel cards posted by the design team at the Magnolia-licious Highlites Blog. Better yet, upload your own! All of the details are on the Magnolia-licious Highlites Blog, basically you have all month to prepare your creation, then upload in the comments section. For your hard work, you have an opportunity to win a stamp of your choice from Magnolia-licious.

Card Recipe:
Stamps: Magnolia-licious – #362 – Berry Tilda, Sentiment #703
Paper: My Minds Eye – Pretty Posies
Ink: Memento Black Tuxedo
Accessories: Spellbinders Eyelet Pendant, Spellbinders Fancy Tags, Crochet Flowers from my stash, May Arts Ribbon, MS Branch Punch
What a fun project – I can see this easel as a fun birthday card. Speaking of birthdays, mine today was awesome and I thank you for all your sweet, well wishes I received through email. Yay, I can't get older for another whole year ;-)