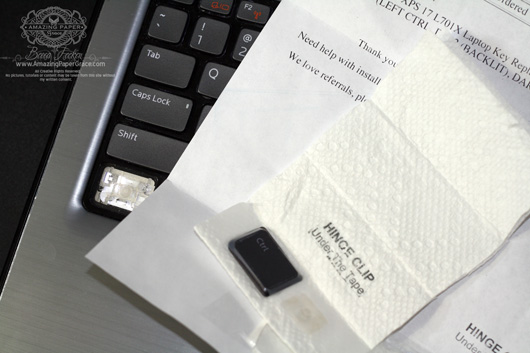 Hi there blog friends, yes this picture will need a little bit of explaining :-)  By the way, a time or two today you might see a maintenance sign on my blog, no worries, it will only be up a short bit at a time, so please try back.  Today I'm sharing a quick story that has been a little bit of a private joke in my family.  My grown kids say it is a sign and I chuckle as it comes coincidentally close to the release of the stamp set I showed yesterday called Looking for a Sign.   Not long ago  I was working on my laptop which is shoved back up against my library of dies in clear cases, you know — within arms reach. Several of the cases fell out and hit the laptop. After the mini avalanche I discovered one of my keys was missing.  I looked around my clean craft area and no sight of the missing key — not high — nor low.  I tore up that end of the room looking for the key to no avail.  The key was the Ctrl key and I wondered how I would operate without it.  It drove me crazy  because you know you use the control key for just about everything but over time, I let it go.
It became the joke du jour at home – how 'I lost control', the kids would call and ask me if 'I ever regained control' and mused, perhaps 'I didn't need to have so much control' :-)  Ha-ha….  For a key to vanish the way it did, I wondered if it was indeed a sign, lol.
Many months later I was working on a project and voila, the control key was found, not buried or underneath something but just as if I had been overlooking it on things I touched every day.  I honestly said a little prayer and thanked the Lord for letting me think about that word in a positive way.  But alas when I went to fix it, the key didn't pop right back on and resume where it left off – it appears something underneath was broken in the impact so for another month or so the key sat on the edge of my laptop, reminding me how it used to work.
Finally I went out on the internet and found out that you can buy replacement keys.  This week is the first week I've had the whole control key situation 'under control'.  Thankfully during this little humorous situation, I was able to stop for a moment to think about things and put them into perspective.   Control has been a theme threaded through my life many of these last months.  After introspection, I hope I've become a better steward of that word.  Just sharing…