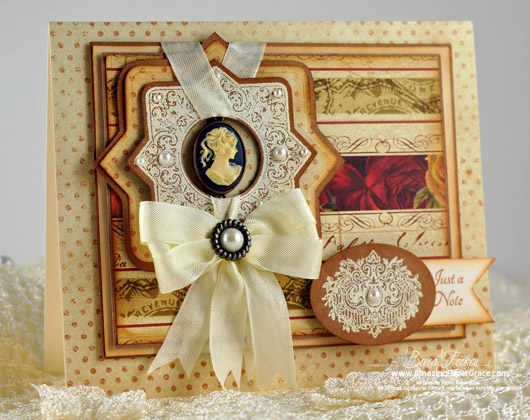 Hi there blog friends! Remember yesterday when I said I was gonna rustle up some of the new stuff on my desk to gussy up into a card.  (Speaking of new stuff, I mention some Blog Candy at the end of my post).  Well, today I have new things to show and I know you can't really hear the excitement in my voice but you would have if you had been in my craft room.  This is the first chance I've had to touch these things and, well, . . . LOVE!   First of all – new dies and you know that new dies make my heart sing!  JustRite Stampers has new Spellbinders manufactured custom made dies – the one I'm using today is called Nested Medallion Labels.   I promise you don't have anything like this shape in your repertoire – it's absolutely regal if you ask me. Of course there are stamps (conveniently) to match that die template – the set I'm using today is called Always and Forever Medallion Labels. These are new CHA releases but if you just happen by JustRite Stampers and peek in the store – there are tons of new things – check them out HERE (very big grin) – now if you are easily enabled, think twice before clicking, okay?

Yep, these have all been sitting over in the corner – it has been torture!  So I did some simple layering because I love the look of this die template.  Then I looped my seam binding through one side of the medallion and followed around the backside of the card and up through the other side of the medallion. This left me two ends so that I could tie a bow.  The cameo is a Bead Landing trinket from Michaels and I knew they would be a nice size for cards.

I cut one of the stamped motifs with Spellbinders™ Classic Ovals SM and attached a pennant for my sentiment.  By setting it up this way, when I give this card, should I need another sentiment, this is easy enough to detach and swap in another of the many sentiments from the set.  That's one of my little secrets.  I can usually use a "Just a Note" card, but if a birthday pops up, and I'm not prepared, I can get there very quickly :-) 
By the way, JustRite is having a retirement sale – so just as the words says, once they are gone, they are gone.   If you didn't get your favorite 1 5/8″ or 2″ Original JustRite sets when they debuted, some of these are up to 75% off  – a bargain hunters dream.  Here's the link – JustRite Retirement Sale.

Since you all are the most wonderful readers ever, I wanted to let you know I'll have New Years Eve Blog Candy.  I guess (after all the smooching's done) right after midnight CST, you might have to come and peek in to see what I've got.  It's been about 5 months since my last candy so I'm a little bit rusty at this.  Remember, I said I have new stuff, so hmmmm….let me dig around and see what I can rustle up!!  I'll see you later on!!