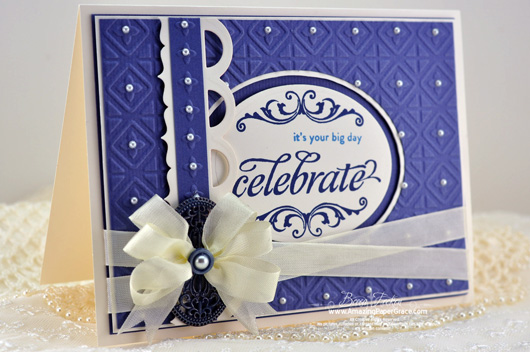 Hi dear blog friends!!  I have received some inquiries about my Celebrate Card . . . So I know by now you're asking, What "Celebrate" card?   Welllllllll, it's actually on the back cover of the Feburary 2012 edition of "Cards" Magazine.  I wasn't sure if it was out on the new stands yet, but apparently it is – so I hadn't posted it or referred to it yet.  I just can't get anything over on you all!!!  Since there are questions about instructions and what I used to make the card, I'm posting the pictures as well as the full step by step instructions in my blog post today.  I made these items some time ago and planned to show them sometime in the future but hadn't had a chance to get them posted.  Why?  Well, there is a box to go along with the card, and I wanted to do the box justice by writing a nice tutorial.  I won't have the box today, but it will be coming soon!  I will tell you though, it is a new box you haven't seen before and it's one of my favs!!  :-)

So for some of those who leave comments saying, "I could never make one of your cards" . . . ahem,  this is one that you CAN make.  It's a basic card, but there are enough frills that its different.  I encourage you to CASE it.  The design combined with the stamps sets that I used, is one I can pick up and interchange for just about any occasion I can think.  That's not the case with every card I do, but you know I keep a "go to" list for that very reason.  So this makes that list my go to list for when I need a card and don't have hours to pour over the design.

HOW IT'S MADE
1.
Cut cream cardstock to 7.5″ by 11″ and score at 5 1/2″ to create card base.
2.  Layer with blue cardstock panel cut to 7″ by 5″.

3.  Cut a blue cardstock panel to 6 3/4 x 4 3/4 and cut opening using Spellbinders LF-110 Grand Ovals #2
4.  Cut a cream cardstock panel to 6 7/8 x 4 7/8 and cut opening using Spellbinders LF-110 Grand Ovals #1

5.  Emboss blue panel with Spellbinders ES-003 Valor M-Bossabilities running paper through machine twice.  On the first pass emboss, on the second pass lay paper in place and match pattern taking a moment to feel the previous embossing fall into place on template, then emboss again.
6.  Embellish petal motifs with pearls.
7.  Adhere both frame panels and attach to card base using foam tape.
8.  Stamp Celebrate and flourish elements from Waltzingmouse Join Us and Waltzingmouse Say It Loud on a cream panel.
9.  Cut/emboss with Spellbinders S4-110 Classic Ovals LG #5 and adhere centering in oval opening.
10. Cut border using Spellbinders E8-001 Classic Scallop Edgeabilities and Spellbinders E8-002 Bracket Edgeabilities.
11. Emboss a 1" wide scrap of blue cardstock using reverse side of ES-003 Valor M-Bossability and apply to center of border; embellish each petal motif with a pearl then adhere border vertically on card.
12. Cross card with two pieces of seam binding and adhere filigree element on left side of card.  Top with bow, button and pearl.
SUPPLIES  USED
Stamps: Waltzingmouse Stamps – Join Us, Say It Loud
Paper: Neenah Classic Cream 80 lb cover, Bazzill Cardstock

Ink: Colorbox Chalk Ink – Prussian Blue, Dutch Blue
Accessories:  Spellbinders S4-110 Classic Ovals LG, Spellbinders ES-003 Valor M-Bossabilities, Spellbinders LF-110 Grand Ovals, Spellbinders E8-001 Classic Scallop Edgeabilities, Spellbinders E8-002  Bracket Edgeabilities, Recollections Flat Back Pearls, Cream Hug Snug Seam Binding, Bead Landing Filigree – Figure 8 Bow – Peg Bow Maker
Thanks for stopping in today.  Comments to win the Prima paper will close down some time tomorrow, so be sure to stop by and leave yours on this post: http://www.amazingpapergrace.com/the-best-of-both-blog-candy/   I'll see you soon!!