If you are looking for the blog candy you can read about the details on THIS post. Leave a comment and be sure you check in and grab the "Word of the Day for Double Play.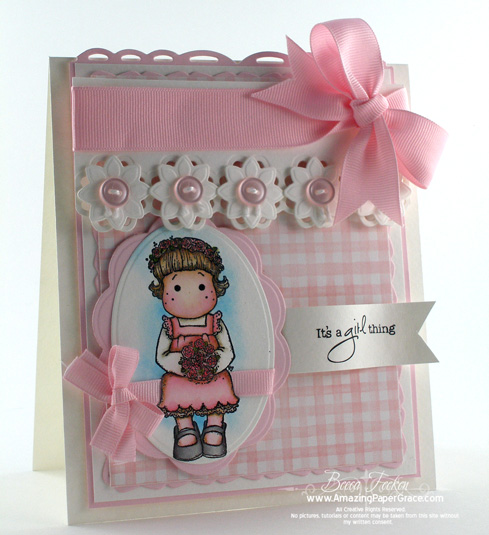 Hi there. Several people left comments that they didn't know why I would put drops of ink on a palette. I'm hoping those readers are peeking in today so that I can explain a little bit. The palette that I made yesterday is designed to hold the waterbased ink used to re-ink a Ranger Distress ink pad. In addition to using the ink pads, I like to use the ink itself to watercolor with. Although the distress inks are waterbased they seem to have more body that other waterbased dye inks, they are rich and they stay wet for quite some time on a palette. The palette is simply a convenience when using the inks to watercolor an image and makes it very easy to mix colors. Each of the 36 drops of ink I put into the palette were different colors – in their concentrated form they just seemed to be a dark drop. Hope this helps!! In fact, the card that I'm showing today features Bridesmaid Tilda wearing Wreath, She is watercolored with Distress Inks. The Tilda stamp comes from Magnolia-licious.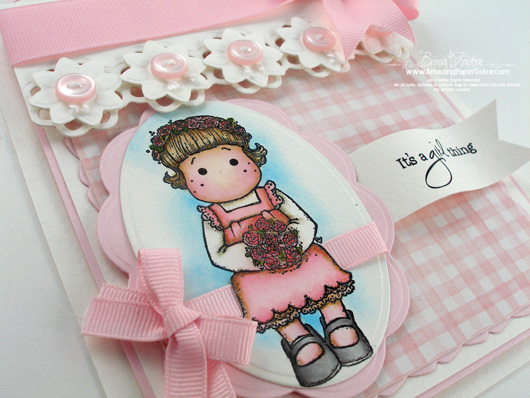 I've used several Spellbinders borders and they're slightly hidden so I'll explain. At the top, I used the Easter Borderabilities turned upside down. Around the gingham I used one of the Lotus Borderabilities so that just the very edge is visible – I think it makes a fabulous edging. Then for the flower strip I used the other Lotus Borderabilties and one of the flowers from Flower Bouquet on top of each motif and turned the flower on point so that it showed the cool holes in the border. For my Tilda image I cut a Petite Ovals LG and matted it with Big Scalloped Ovals LG. The banner is cut by hand and the sentiment is a rub-on. Hope this all makes sense – this was a ton of fun to play with the borders to come up with something different :-)
Card Recipe:

Stamps: Magnolia courtesy of Magnolia-licious – Bridesmaid Tilda wearing Wreath
Paper: DCWV – Gingham, Strathmore 140lb Watercolor Paper
Ink: Versafine Black Onyx and clear embossing powder, Distress Inks for watercoloring
Accessories: Spellbinders™ Big Scalloped Ovals LG, Spellbinders™ Petite Ovals LG, Spellbinders™ Spellbinders™ Easter Borderabilities® Petite, Spellbinder™ Lotus Borderabilities® Petite, Spellbinders™ Flower Bouquet, grosgrain ribbon, buttons, Lasting Impression rub-ons
Thanks for stopping by!!