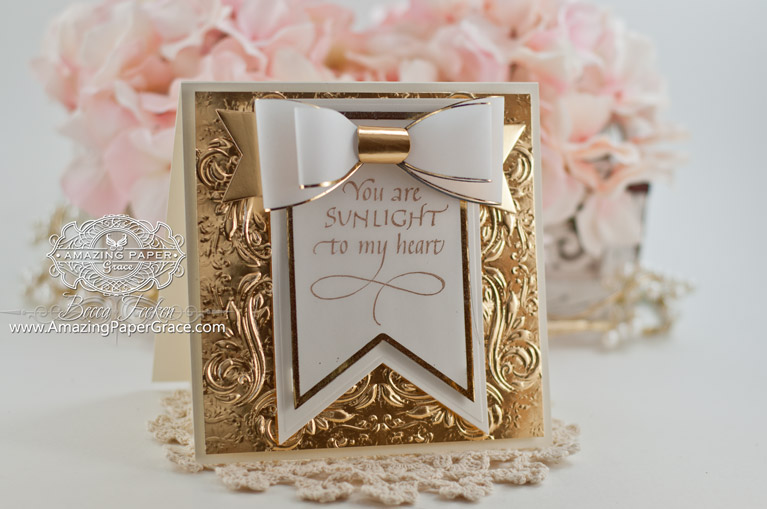 Good morning sweet friends.  I'm back to introduce another of my new die templates.  No stash is complete without a paper bow, I'm so lucky that I was able to add one to the Spellbinders line up in my collection and I know I will use it often.  Oh yes, I love my ribbon bows but there's always a time a place for a sweet paper bow and let's don't forget – it's the easiest path to perfection!   I tend to add them to gift boxes and tags and can't wait to try it with felt.  Without further ad0, introducing S6-048 Spellbinders Tiered Multiloop Bows by Amazing Paper Grace!  I created a card showcasing a wonderful sentiment by Quietfire Design called You Are Sunlight.  Here is the video on how to easily put these together along with some tips that make you a pro from the start: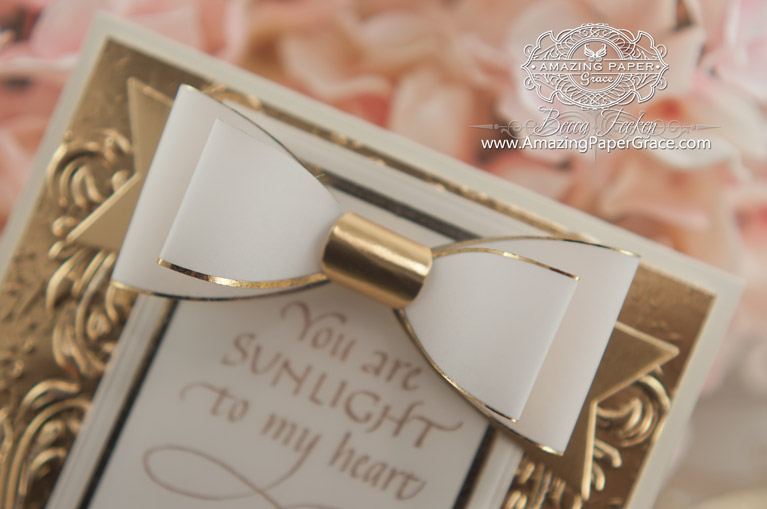 Having recently shown you how to minc borders on your dies, that's exactly what I decided to do with the bow using vellum for a delicate look.  You can check out my Minced Borders on Die Cuts Tutorial ——–> HERE.  Underneath the bow you see Spellbinders Baby Buntings (minced borders).  Then finally the bottom layer is embossed using one of my favorite embossing folders – Spellbinders Decorative Applause.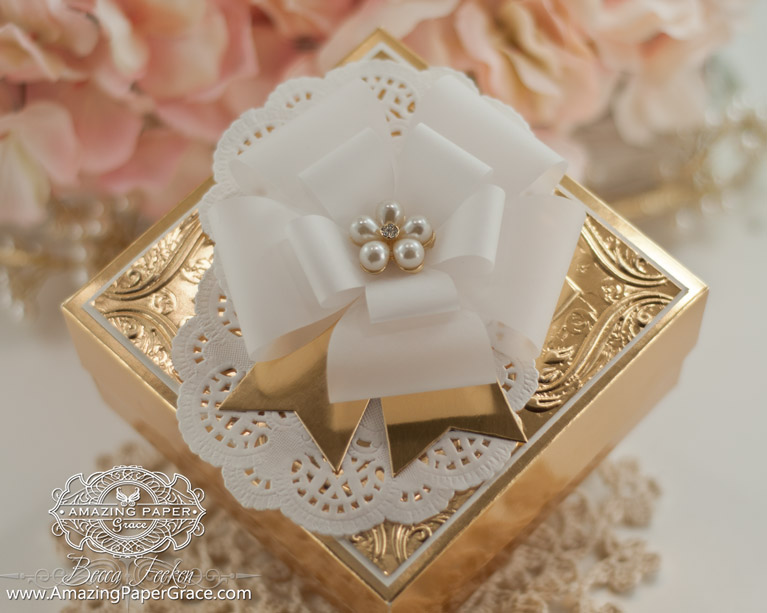 I added on to the ensemble by creating a gift box with a large multiloop bow on top.  Same dies but more of them for a bow in the round – perfect for box tops!



As I dabbled I saw that I could use the bow tails for a banner for sentiments.  I double stacked the small and large tails and used the large bow as the place so stamp 'Hello there'. My background is Spellbinders Labels Forty Seven and the inlaid lattice is from S6-048 Spellbinders Tiered Multiloop Bows!  You'll recognize the flowers as Spellbinders Cinch and Go Flowers.
I have yet another project started with this die set and you can see a sneak peek at the end of my Video above :-)




Rubber Stamps:   Quietfire Design – You Are Sunlight
Craft Paper:  Neenah Classic Crest 80lb Smooth Natural White, Vellum, Gold Poster Board – Hobby Lobby, Bottom Card – My Minds Eye
Ink:  Amuse Studio – French Roast
Accessories:   S6-048 Spellbinders Tiered Multiloop Bows by Amazing Paper Grace, Spellbinders Baby Buntings, Spellbinders Decorative Applause, Spellbinders Labels Forty Seven, Spellbinders Cinch and Go Flowers, Doily, Button from my stash, Heidi Swapp Minc Machine

Thanks so much for stopping by!  So glad this little gem is finally out – it will be a big part of my Christmas crafting and the little gifties I give.  You know how we are!