Welcome sweet friends, today we are introducing my new die collection called Chantilly Paper Lace – you can take a quick peek of the entire collection ——-> HERE.
Have you ever rummaged around in your grandmothers attic, through memories of the past to find sweet letters and cards romantically tucked away for safe keeping while preserving sweet acquaintances and conversations of the past?  Letters adorned with the finest decorations, now tattered and ripened with age, impress what an honor it was to receive these treasures.  I reached into the past to restore some of these treasures, preserving the fine detail, the elegance and the pure femininity into a modern day romantic die cuts that are at home on any card.
The collection is reminiscent of petticoats, fine lace and adornments and are designed so that each die works with the other.  In fact, the card front dies are designed so that they can be used alone or two can be layered over each other.  Join us as each Creative Team member shares their creations with two dies from the collection.  Oh, and surprise, I have a step by step tutorial on the Spellbinders Blog that you can make as your first Chantilly Paper Lace creation – I've put the link to the post on the link list below!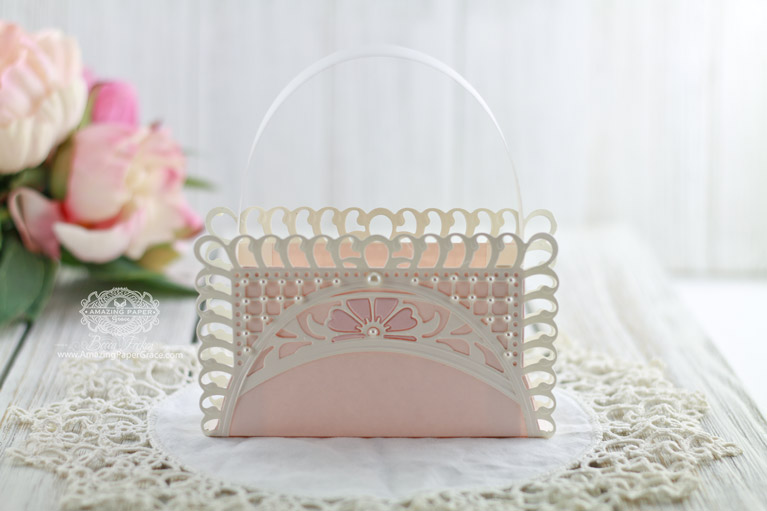 We are listing all of the creative team so that you don't miss a beat but don't forget, each of us will be giving away an Amazing Paper Grace die pulled from the comments – one from each blog and hint-hint you'll want to make sure you leave a comment on the Spellbinders Blog too.  The prize details are at the bottom of my post.  So, without further ado let me talk about the dies I get to introduce:
First up is Spellbinders S6-129  – Bella Rose Lattice Layering Frame Large
Using Bella Rose Lattice I decided to make a shaped card.   The lattice makes the die look so airy and a lets the background color peek through for a very subtle effect.  I decided to keep the oval shape and pop it up for more texture and replaced the inlaid flower in a different color.   It almost reminds me of a trellis.   The lattice is adorned with pearls.  I also made a small goodie basket to match the elegance of the card.  It's no more than the die template cut and scored 3-1/2″ from each long edge and then I added a handle!
This die is quite large and the interior parts are are great supporting actors – I will be able to use that unique oval to make it's own card and to embellish others.  I love the the die is broken down into so many parts to allow you so many cutting options.  When you see the project I blogged on the Spellbinders Blog today, that statement will make sense.



Second up is Spellbinders S5-329 Hanna Elise Layering Frame Small  
This is a sweet card that was created by Teresa Horner.  It has a decidedly vintage feel and she centered the Hannah Elise die and embellished it off to the side with lace.
I love that the die is separated so that it can be cut as an inlay into a piece of paper or can be cut out wholly and used as a classic label shape.  This particular die is excellent for layering but definitely holds it own just as an embellishment.  Since it has an outer rim, the shape cut can be used as a shadow die which provides great contrast when paired with the detailed cut of the die.  The size of this die makes it layer marvelously with the larger card front dies.



Availability:
These dies have just arrived and are indeed available on the Spellbinders Website ——-> HERE
In the meantime, be sure you leave a comment on this post for a chance to win an Amazing Paper Grace Die from the recent Venise Lace Collection.
Prizes:
There are five dies that are being given away and each winner that left their comment on Saturday gets an early bird bonus. One name will be randomly picked from comments left on each of our five blogs on the Introducing Chantilly Paper Lace post between October 14 and October 17, 2017 at midnight US Central Time and our international friends can participate!  The randomly selected names will be announced on the Amazing Paper Grace Blog on October 18th.  (All giveaways for this hop are managed by and the responsibility of Amazing Paper Grace)
Up for grabs is an Amazing Paper Grace die of your choice from the Venise Lace Collection; there will be a total of five dies and a winner can win once among all five blogs.   If your name is selected, simply claim it within 2 weeks of announcement by sending your address through the form under the Contact Tab on the Amazing Paper Grace Blog. The dies will be mailed out from Amazing Paper Grace.
Click the links to get to more sweet samples:
Visit Joanna   – joannakrog.blogspot.com to see her take on Lunette Arched Borders and Lily Pearl Flat Fold Flowers
Visit Teresa   –  victorianpaperqueen.blogspot.com to see her take on Coralene's Chemise and Hemstitch Ovals
Visit Melissa  – keepsakesbymelissa.blogspot.com  to see her take on Tallulah Frill and Breanna's Corset
Visit Kristi      – kristispapercreations.blogspot.com to see her take on Annabelle's Trousseau and Vintage Pierced Banners
Visit Becca     – amazingpapergrace.com/blog Here, showing Bella Rose Lattice along with Hannah Elise
Visit Becca     –  spellbindersblog.com for your first Chantilly Paper Lace Project including step by step photo instruction.
Thanks so much for joining us for Introducing Chantilly Paper Lace!
Leave a comment – tell us, which of these dies would is closest to your heart?