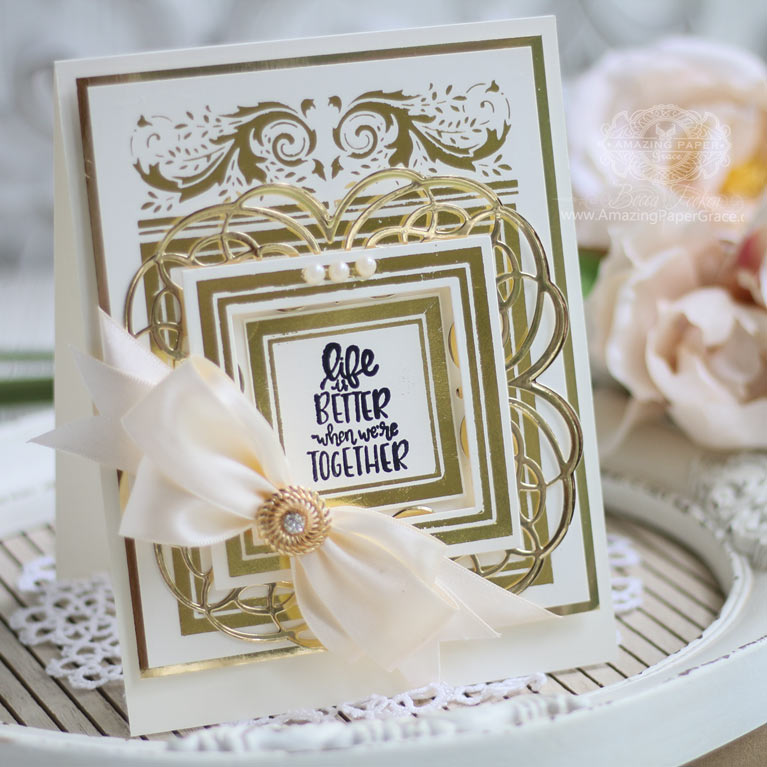 Glimmeristas, I hope you are ready for more Glimmer Fun!!!  We have a new mini collection we are introducing today called Royal Flourish.   With two card fronts as well as an oval border shape and square border shape – we'll have some stash-worthy things for you to look at.    We thought it would be fun to make a card and a matching box using some of our favorite die sets and the new Royal Flourish Glimmer Plates.  It's easy to do and is a show stopper when we need to give a gift.
Inspiration for Royal Flourish
Have you ever noticed during period dramas like Game of Thrones that the Royalty each have their own insignia and way of writing? It's so cool and really fascinating that these things mattered to them.  There was actually a lot of thought and flair behind the written word.   It's really no different today; we all have our own flourishes of style that we lay down to call things our own.  It was this spirit of honing a style that gave me the inspiration for Royal Flourish.  Glimmer is such a lovely way to add rich detail and embellishment!
We've been especially loving using borders with glimmer.  For this collection, I've created two border sets that you can cut with
Hemstitch Squares
and
Hemstitch Ovals
.   Card fronts that can take a sentiment seem to be the favorite, so happily there are two details plates that will make lovely frames to your favorite sentiments.
My Project For Today:
I'm happy to introduce GLP-127 Crowned Rimmed Squares
Rimmed squares is already a favorite of mine because the nested squares allow me to make frames and build dimension.  Usually, when I'm working with Glimmer I think of it as a stamp and then go back to my stash for a special die to include to introduce texture.  In this case, I'm using Spellbinders Flourished Square – it's one of my go-to's and lets me create a frilly underlayer that draws the eye in.
Our challenge today to was to build a card and then to use the same decor on the box.  Lol, that's my dream crafting session because it is so easy to do.  Once my card was done, I simply scored up a 5 x 7 box and it makes the perfect ensemble.  I think you're handing someone the wow factor when you gift an ensemble.
Availability:
These plates are available right now on the Spellbinders website —–>HERE

Prizes:
There are two dies that are being given away.  One name will be randomly picked from comments left on the combination of our seven blogs on the  Introducing The Royal Flourish post between June 10 and June 15, 2019, at midnight US Central Time.  We encourage all of our international friends to participate!  The randomly selected names will be announced on the Amazing Paper Grace Blog on June 16th.  (All giveaways for this hop are managed by and the responsibility of Amazing Paper Grace).
Up for grabs is your choice of one an Amazing Paper Grace Die of the Month from November 2018, December 2018, January 2019, February 2019, March 2019, April 2019 or May 2019.  If you missed one, this giveaway is for you – they can only be purchased through Spellbinders but I managed to snag a few extras.  And hey, if you are already a Die of the Month Member, no worries – we'll send the die to a friend of your choice and you'll get to pick a die from one of my other collections – Vintage Elegance Collection, the Graceful Borders Collection, the Venise Lace Collection, the Chantilly Paper Lace Collection, the 3D Vignettes Collection, the Romancing the Swirl Collection,  A Charming Christmas Collection, the Glorious Glimmer Collection or the Shadowbox Vignettes Collection and The Gilded Age.
There will be a total of two dies offered and a winner can win once among all the blogs.  If your name is selected, simply claim it within 2 weeks of the announcement by sending your address through the form under the Contact Tab on the Amazing Paper Grace Blog.  There won't be a reply back but if you leave your choice, we'll get it, I promise.  When sent, you will get an email that your die is on the way. The dies will be mailed out from Amazing Paper Grace.