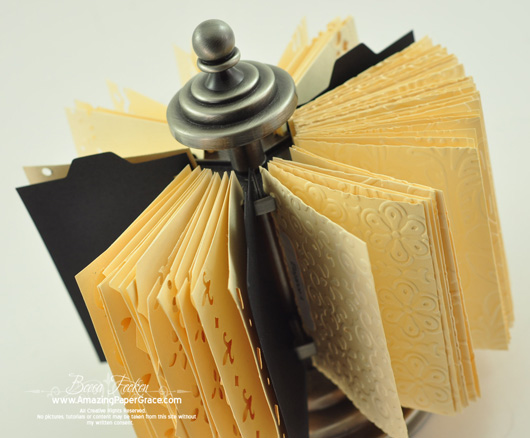 Hi there sweet blog friends!  I have something to show you that I was working on last week and the week before.  I'm tickled if I must say so myself – it's been on my mind for a long time and I finally sat down and did it.  Come have a look see – it's worth a moment of your time!!
So . . . I strongly believe that if you can see it, you'll use it.  Even though the packaging is smashing, the beauty of both Spellbinders™ Edgeabilities® and Spellbinders™ M-Bossabilities™ are absolutely magical when you take them out of the package and run them through the machine!!  I'm a very visual person and find it difficult to work from a two dimensional picture.  Voila, once things are out of the box, actual size, real dimension, touchable – they click in my mind.  I've had this ATC Holder for more than a year (I have two of them) and finally decided that I need to put them within an arms reach with items I'd like to see on a daily basis.  In this case I embossed all my embossing folders and cut all my edgeabilities.  That way I'll be able to audition them by pulling each element from the ATC holder and holding them together.  So here's what I did.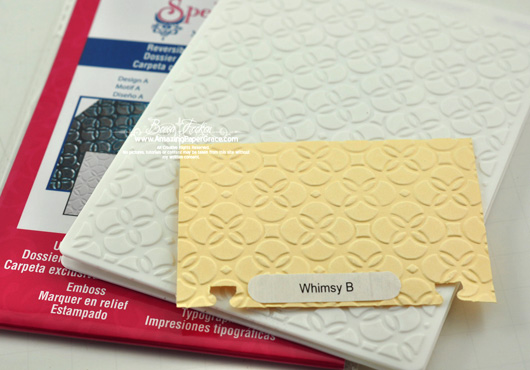 I created labels and embossed each embossing folder, putting a label on the inside edge so that I could quickly identify which folder.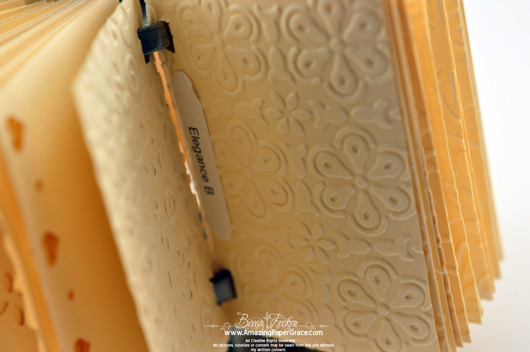 I grouped them in alphabetical order (so that I'll be able to locate them quickly by name if needed) and filed them away in the ATC Holder.



Then I cut all the Classic Edges Spellbinders Edgeabilities and placed them in the ATC holder together, inserting a black divider to separate each area.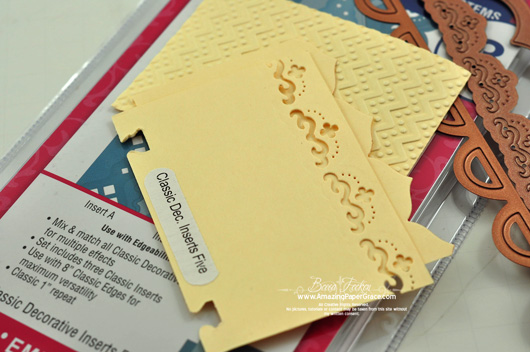 So now I can pull select cards from the file and layer them together to see if they work.  I'm always intrigued by the cut out's and how they look in different situations and with different colors.  With this entire mix and match system I can now compose with the decorative inserts, classic edges and texture all at the same time.  Like I said . . . if you can see it, you will use it!!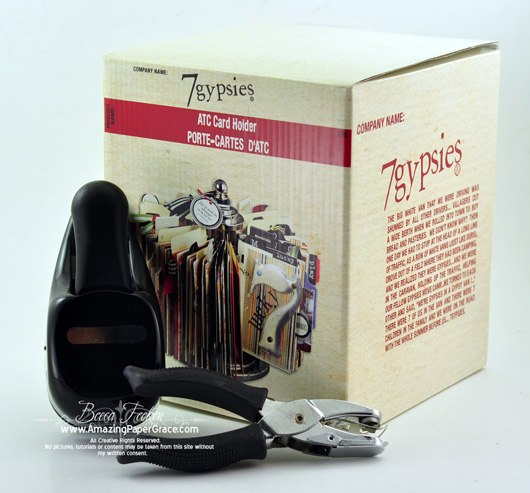 Here are the simple supplies I used – The 7 Gypsies ATC Card Holder, 7 Gypsies ATC Card Punch, 7 Gypsies ATC Blank Cards 7 Gypsies ATC Blank Tabs, Stampin Up Word Punch and the my assortment of embossing folders and Spellbinders Edgeabilities.  As time permits, I'm going back to add all my border punches – then I'll be all set!!   I don't have links but if you google, you should be able to find any of the 7 Gypsies items on the internet!
In the meantime . . . I'm checking this off my list!!  See you soon!!