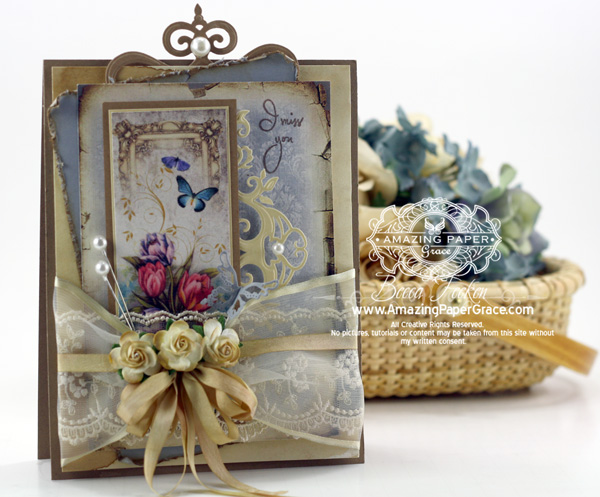 Hi there blog friends!  Lots going on the blogosphere today and I even have a card to share.  Yesterday I mentioned that my friend Janet asked me to guest on her blog and this is the second card I made.  If you like you can see the original post HERE.  She has some magnificent designers that play there, they are  full of inspiration!!  I used papers from her ByDigitalPaper Store on Etsy and created  a card using this set of bookmarks called Stories Floral that I simply love; they were printed out as is.  The blue background is from Antique Paper 3 and is enlarged.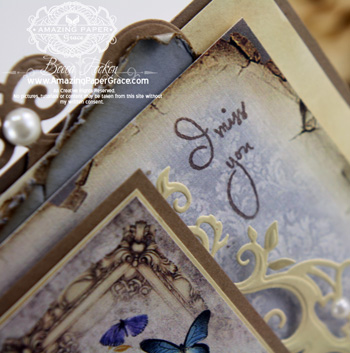 I'll have to admit, after I made the card, I V8 smacked my forehead and thought  why didn't I punch a hole and add a tassel so that the recipient could just pull off the bookmark and use it as a real bookmark.  I wasn't thinking.  I was so taken with the beauty of the artwork that I just plowed ahead, but I'll do it next time (grin).  I  love to go shabby so I pulled out kraft cardstock and all the creme cardstock that you see was dipped in a coffee bath for a minute or so to age it.
The edges of the blue paper were simply roughed up by dragging them across the open 'v' of a pair of scissors (if you never do this, then try it with a scrap).
My card is 5″ x 6-1/2″ and I used a couple of Spellbinders for embellishment, tucking Spellbinders Twisted Metal Tags and Accents on the back layer and framing the bookmark with Spellbinders Flourish Trim.  Since the bookmark has butterflies I embellished with a filigree butterfly from Spellbinders Jewel Flower and Flourishes.  
Don't forget, if you don't already get my blog by email, to make sure you're on something other than Google Reader and verify the feed is www.amazingpapergrace.com – lots about this on yesterdays post – https://www.amazingpapergrace.com/we-need-to-talk/  I'll see you soon!!
The ladies with Waltzingmouse Stamps are showing new stamp designs today – be sure to take a peek HERE and a huge hop with JustRite Papercrafts  at 10:00 am eastern today that you can see HERE