Hi there blog friends!  I couldn't be busier if I tried.  Actually this morning finds me without internet, well, kind of, sort of. Modem still works so I hooked up long enough to get this post ready. Not sure what happened through the night but it almost looks like my router and switch were hit by lightning.   At any rate, I am celebrating!  What to know what?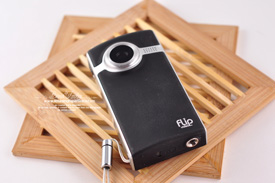 Well, when I started blogging and started doing videos – I did it with this little gizmo – it has served me well.  At Christmas time, I got a new video camera, but have honestly not had a second to figure out how to use it.  Well, after some upgrades and changes in software, I'm ready to dive into the new camera and and retiring little flippy.  As a matter of fact, I have a short Becca Bit to share today and if life goes the way it should, this will be the last video I do on that (except for cases of backup).  It's the little things, right?!?

Hopefully I'll be able to solve my technical problems today, I'm running out to buy a new router.  I'll be back this afternoon or evening with some more Spellbinders goodness.  Thanks so much for stopping by!