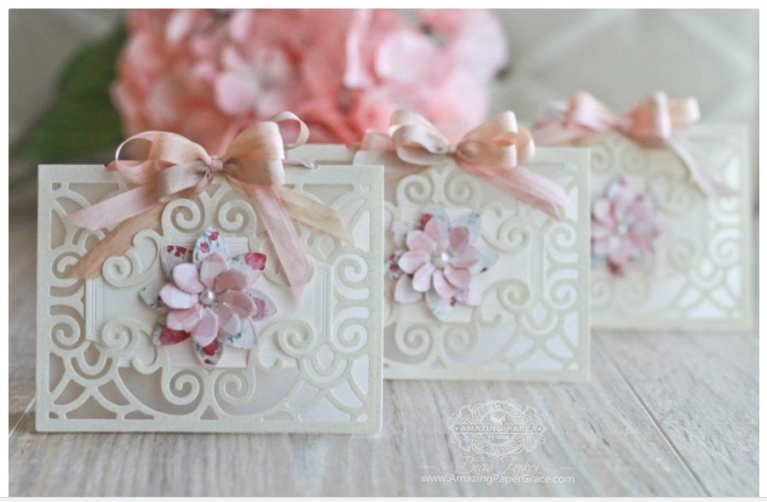 Good morning sweet friends!!   I wanted to pop in and share a step by step walk through of how to use my new Fold and Go Flowers – S3-251 Vintage Elegance Round Fold and Go Flower and S3-250 Vintage Elegance Angled Fold and Go Flower.  The design team has been posting lots of inspiration using the flower and once you see how easily it goes together, you'll be able recognize the lovely ways it is being used.  There are many pieces in the Vintage Elegance Collection that were designed to be embellished with this flower.    Today I'm using it as a focal piece on a mini card ensemble made with Spellbinders S5-289 Filigree Booklet Die.   I've received many puzzled looks from people when actually looking at the die and then a look of "aha" when they see how it is assembled.  Since it is a double decker flower and shows two sides of paper, that gives you a lot of options and of course you can always use a solid piece of paper.   The folding (along score lines) gives the petal it's final shape and a unique texture not seen among other flowers.  Double decks add lift to the flower but it's so great because these flowers can be compressed to go through the mail flat!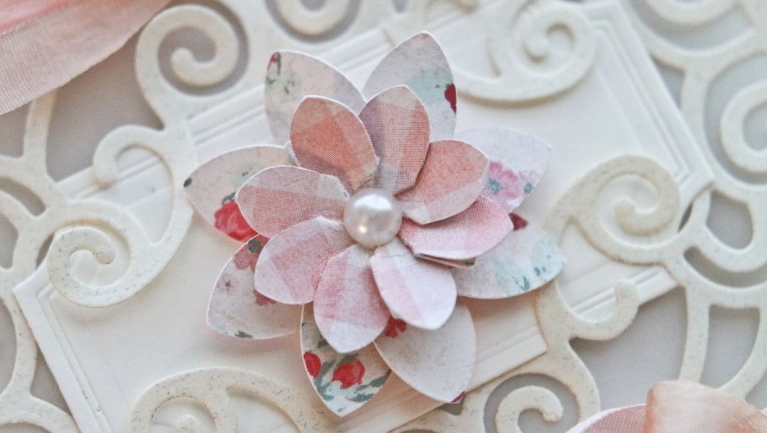 I consider myself flower challenged, I like to design dies for flowers that are easy to put together and will look the same every time you make them and you don't have to be a flower master to master them. Dig through your stash and find a paper that has design on both sides – small patterns work best.  You might even try a solid/print combinations.  No worries if you don't have any double sided paper – one color works just as well.  The set comes with four sizes of petals – I often run the whole set, all sizes at once, and reserve the extras for later.  You need eight same sized petals for each flower.
Let's get started: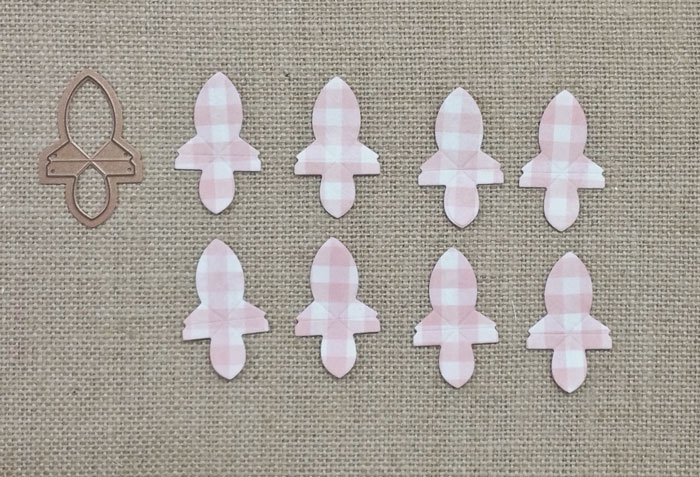 1.  Cut eight petals from the desired petal size.



2.  With right side facing up – identify "x" shaped score line that is intersected by a horizontal line. Fold right sides together along horizontal line then open petal and bend wrong sides together along each side of 'x'. Bend petals together again and tuck the horizontal arms to the inside so that the result are two stacked petals that come together at a point.



3.  Fold all petals in this manner in preparation for glue – Glossy Accents (recommended).  Begin by holding a petal with folded point at bottom.



4.  Place a drop of glue inside the left valley.



5.  Seat next petal into the glued side with the largest petal all the way to the back and the small part of the petal clicks into the valley. Push all the way in until the new petal no longer moves.



6.  Repeat steps 4 and 5 until there is one petal left.



7.  Put a drop of glue on the left and right side valleys then insert into the final slot.
I've made many sizes of these flowers and now reach for them as embellishment on gift bags and wrapped presents!


Stamps: None
Paper:  Neenah Classic Crest – Natural White – Cover – 80lb smooth,  Paper Studio Vellum, My Minds Eye
Ink: None
Accessories:   Vintage Elegance Collection, S3-251 Vintage Elegance Round Fold and Go Flower, S3-250 Vintage Elegance Angled Fold and Go Flower, Spellbinders S5-289 Filigree Booklet Die, May Arts Silk Ribbon, The Paper Studio – Pearls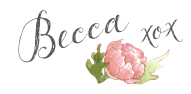 I wanted to introduce this flower and show how to put it together before sharing the lovely inspiration the ladies of the Creative Team have dreamed up.  I'll be back tomorrow with their creations!