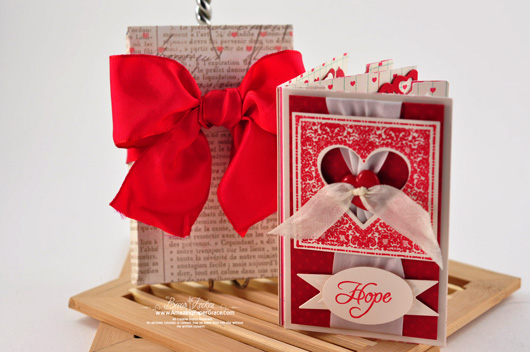 Today I was able to play around with a new set this month that was released by Tami Mayberry for Gina K Designs called Hopeful Hearts.  When I talked to Tami about the new set she designed, it sounded like a winner — she said it was all about hope.   Once I got it in my hands I honestly had to catch my breath because so many of the sentiments in the set hit home with me and with what I was (am) going through.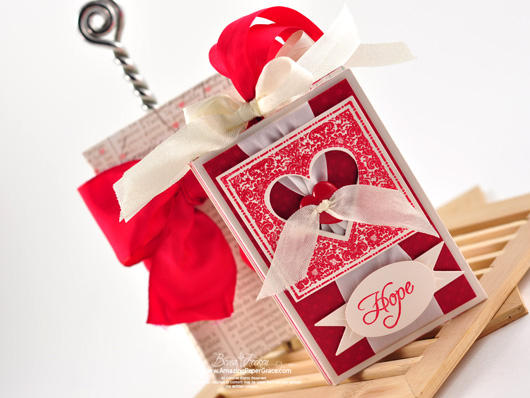 I have a couple of favorite sentiments in this set so I set about the task of finding how I could incorporate many of the things I love about this set,  into one project.  That's when I thought about perhaps making a book.  I'll miss having John this Valentines Day and truth be known, I think that it is about as tough as Christmas was.  I smiled and cried when I made this little book but the theme of hope made it a labor of love.  I made mine as a valentines book to hopefully help me through the holiday but I think these stamps will stretch through the year.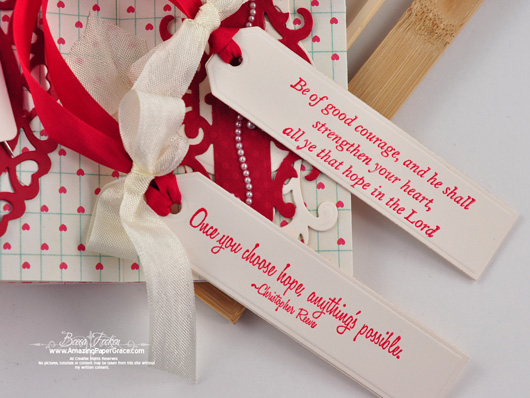 I used lots of Spellbinders on the book, I'll be sure to list all the sets in my supplies list.  These are the tags that pull out of the pockets.  I put sentiments on both sides.  I paired the book up with a little box to slide the book in.  If you are interested in making the box as well, it fits the ID Tag box I designed and the tutorial for it is HERE.  Call me silly, but I love having little things like this sitting on my desk – lol, I guess that's why we make these things, right? 




Shown below are the individual pages . . .
After I thought about it a while, I wondered would there ever be a time where this would not hit home?  There's always some time in our lives when we face adversity; hope and faith carry us.  This was so good for my heart.
SUPPLIES I USED
Stamps: Hopeful Hearts by Tami Mayberry for GinaK Designs
Paper: K and Company, Bazzill Swiss Dots
Ink: Colorbox Pigment Ink – Cranberry
Accessories: Spellbinders Fancy Tags Three, Spellbinders Heart Circles, Spellbinders Nested Pennants, Spellbinders Labels Seventeen, Spellbinders Classic Hearts, (Spellbinders Tags Five – Retired, Long Tags – Retired), Ribbon, Zva Pearls, Oval Punch

I hope you test this out.  Lots of options with pockets.  You could go with less embellishment and it's actually a quick project!  Thanks for stopping by to see me.  Smooches!