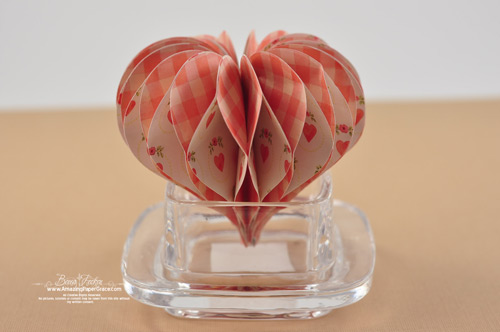 Hi there!! You asked for it, you got it!! Here is the Honeycomb Ornament Tutorial. Since we are past Christmas, I made up another ornament using a heart shape that I cut on my Cricut. It all goes together very easily. The most important thing to keep in mind is that you need text weight, double sided paper – the thinner, the better!  Cardstock is too heavy and doesn't allow the gussets to give. Please make a trial one first before using your "good" paper.  Try the technique and experiment with different types of glue dots, some are too weak to hold and will release in a day or so others are more aggressive.  Trial and error is the key. Good luck!!
Want to check out the Spellbinders Heirloom Ornament I made with the same technique?  You can see it HERE.  Oh the possibilities!!! You should be able to do this easily with any symmetrical shape and with effort it can be done with other shapes. Have fun with it and feel free to link your creations back to this post. Thanks!!
Don't forget, I have double play blog candy going on right now. Click HERE to go to the post to leave a comment to enter.