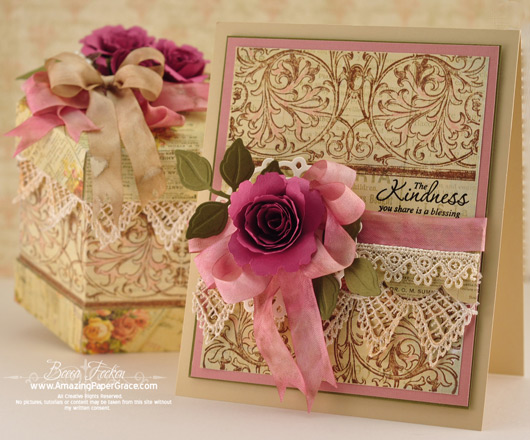 Good morning dear blog friends!  There's lots to cover today so here's the short version — a card and matching box and a video to show you how, a new background stamp, questions about paper for the honeycomb ornament and a surprise tonight at midnight — read my entire post to get all the details!   Okay, now the long version, lol!!  I have a project to show today and a video to accompany it, that I've been trying to get to since the beginning of October.   It feels great to have it done!  Remember the Hexagon Box I made last month?  Since it was very clean and simple, today I've gussied it up and given it a vintage flavor using some of my favorite Romantique Prima paper.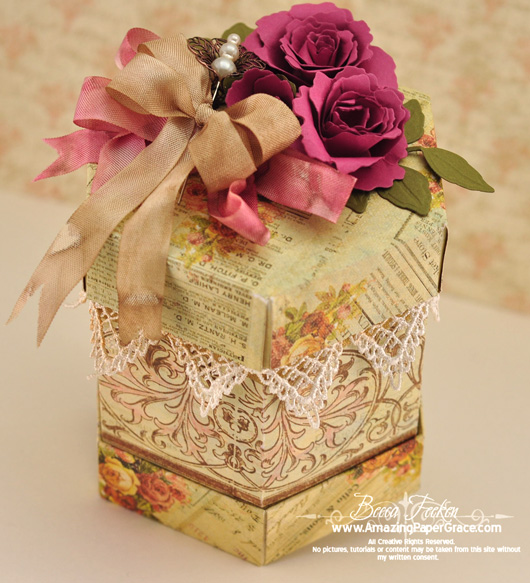 The hexagon box allows for so much embellishment that I just know it will be my "go to" box for a while to come.  I know I've mentioned that I love for the box to be a part of the gift and I don't want them to be tempted to throw it away.  It feels sturdy so I know it can be used for other things after the gift is removed.  The best part of the box is that the walls of the box lend themselves so stamping and especially using borders.  I'm using a new background stamp by JustRite Stampers, the Scrolled Vine Background Stamp.  I'm a background stamp kind of girl, so I stamped the Scrolled Vine Background stamp right on top of some subtle paper to get the effect I wanted for both the card and the box.
Now the box is made using Spellbinders™ Hexagon Petal Envelope and I added embellishment using Spellbinders™ Hexagon Petal Envelope and Spellbinders™ Foliage.   For my card, many of the details match – I used Spellbinders™ Classic Scallop Edgeabilities layered in between my lace and the flower is Spellbinders™ Spiral Blossom One backed by Spellbinders™ Picot Edge Circles and embellished with Spellbinders™ Foliage.  Here's detail from the top of the box.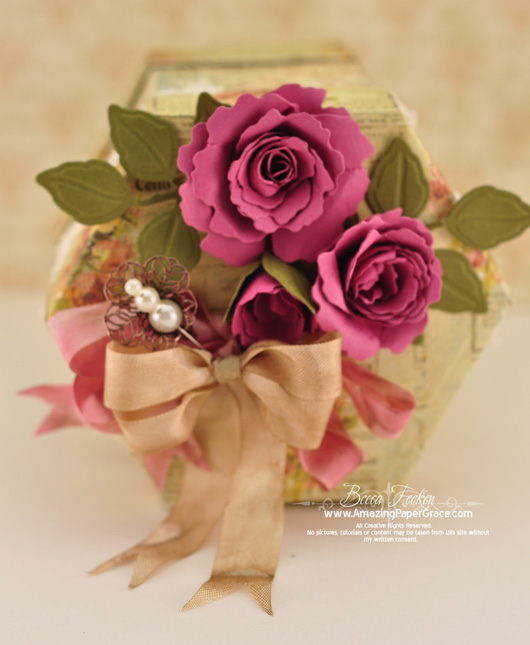 Here's a step by step video to guide you through the process of making your own!

SUPPLIES I USED
Stamps: JustRite Stampers – Scrolled Vine Background Stamp, Kindness Set
Paper: Prima Romantique, Neenah Classic Crest Cream, Bazzill, PTI Autumn Rose
Ink: Versafine Vintage Sepia, Versafine Onyx Black
Accessories: Spellbinders™ Hexagon Petal Envelope,
Spellbinders™ Spiral Blossom One
, Spellbinders™ Classic Scallop Edgeabilities, Spellbinders™ Foliage, Spellbinders™ Picot Edge Circles, Clear Embossing Powder, Pearl Pic, Hug Snug Seam Binding, Bead Landing Finding, Lace, pink chalk pencil

I'm going to have to get used to the video processing time now that I've moved to HD, yikes!!  With my flip video it used to take 8 minutes max to render the video, now it takes two hours to send to my computer and about 45 minutes to upload to YouTube!  I'm shortening the learning curve but my brain is aching, lol!!   For those of you who are interested in doing the Honeycomb Ornament tutorial, many have emailed me to say they are having trouble finding paper.  Apparently the paper I've used is no longer stocked at Hobby Lobby.  I'm soooo sorry – I've seen that type of paper at art stores but I live in a small city and would not have a clue where to find it if not at Hobby Lobby.  As an alternative, I've recommended any double sided paper that is not thicker than typing paper – I believe that Close To My Heart has or used to have a text weight double sided paper.  If not, try book pages, like those from an old vintage dictionary, magazine pages, brayered or stamped printer paper or wrapping paper.  These should all be thin enough to do the trick!!
I hope you can stop by and see me tomorrow :-)  I'll have the opportunity with a group of designers, to reveal a seriously cute, new Spellbinders Die that you've never seen before!  As you know, no reveal comes without the chance to win something very cool so the fun starts at Midnight EST.