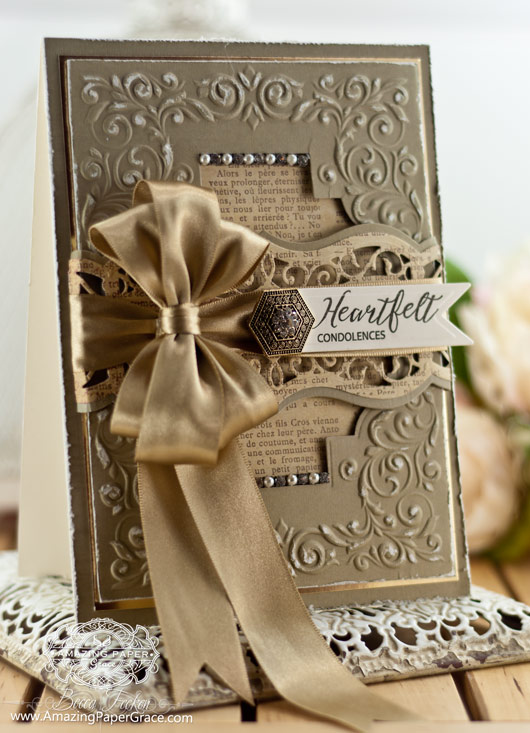 It's a glorious morning!  I hope recent days have been kind to your soul.   Today I have a new card – granted, not an occasion I like to trumpet, but I do like being well prepared.   This month JustRite Papercraft introduced a nice Sympathy set (Sympathy Handwritten Sentiments) that I thought was very reserved and could also be used when someone is going through a difficult time.  Oh, and a sale going on that I'll get to in a minute.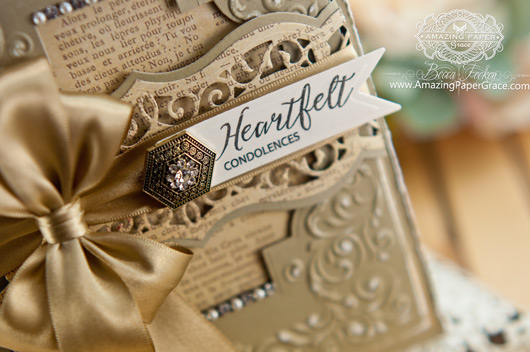 For the 5-1/2″ x 7-1/2 card I used Spellbinders Shady Allure and the matching die template that cuts an aperture in the center – Spellbinders Labels Forty Three.  I added a belly band using Spellbinders A2 Bracket Borders One.  This one I scuffed up a little bit because I wanted to show off the beauty of the embossing.  I kept the embellishments to a minimum using a jeweled button and some fabulous cupchain by  A Gilded Life, tucking in the top and bottom of the frame.
If you're sitting with coffee and have some surf time today, pop over to JustRite Papercraft – they are putting quite a few of my stamps sets on clearance.  If you've been on this fence, get 'em now.  The SALE goes until Midnight on May 18!
Question Parking Lot: