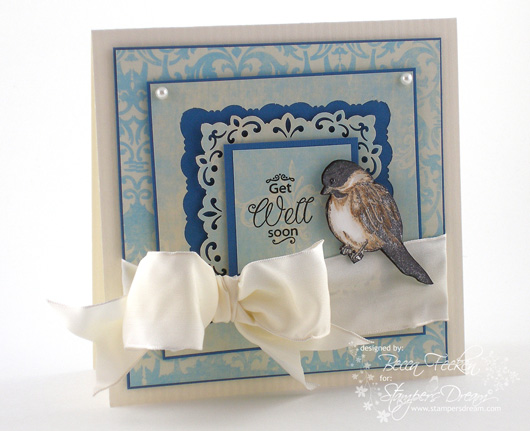 Our sweet friend Michelle Rodgers is under the weather so the Design Team for Stamper's Dream all got together to send her healing thoughts. Hope you're back on your feet soon Michelle! Now if you got here from Laurie Schmidlin's blog, you are in the right place.
I'm sending well wishes to Michelle with this little birdie. I cut the frame with an AllDeco Punch and the Ornament Chickadee is from Impression-Obsession. The sentiment comes from JustRite Stamps and is embossed with Versafine Black Onyx. The birdie is colored with Copic Markers, easy peasy! Your next stop along the way is with Dawn Easton.
Card Recipe:
Stamp: Impression-Obsession
Paper: The Paper Company, Bazzill, K & Co
Ink: Versafine – Black Onyx
Accessories: AllDeco Punch, Offray Ribbon, Pearls, Copic Markers

For those who asked about the lace flowers from yesterday, yes, I will make a quick tutorial – it was actually very simple so the video should be short and sweet (even with my longwindedness :-))
I also said that I would announce the winner to my Blogaversary Blog Candy this morning. What was I thinking??? There were over 1500 entries and I promised a bonus if the winner left a list item every day, so it looks like I have a bit of reading to do, lol! I'll post the winner back here on Sunday morning. Thanks for your patience, and if you have not read the entries for the Blog Candy, they are amazing – you can see them HERE.
See you tomorrow!