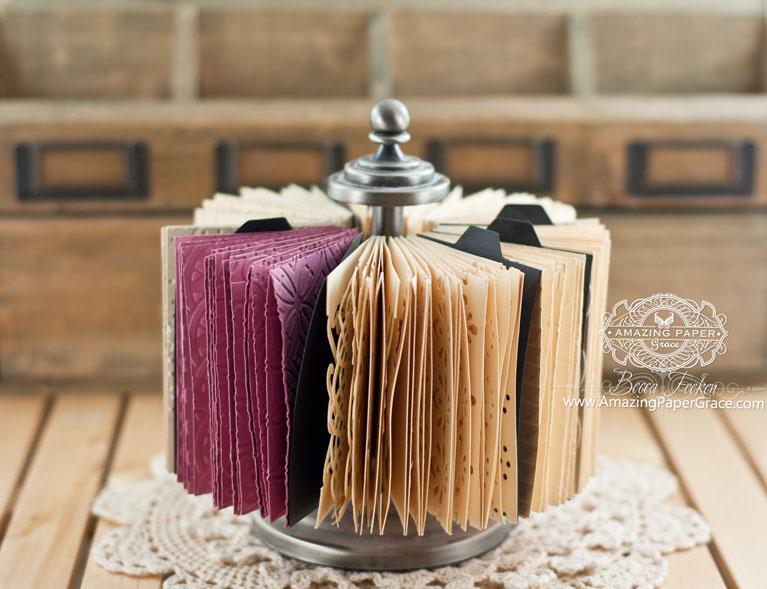 Good morning blog friends! Today I'm sharing how I catalog my current embossing folders, I've shared this before – long ago and I have a reason I'm sharing it today. A dear reader emailed me to ask for help in finding the stand. When I originally did a post on this in 2012 it was readily available but as far as I know it has been discontinued. I'd even like another myself so I thought I'd put this out on the airwaves today as well as share why I so enjoy it for organizing. Right now I use it for embossing folders and the stand is compact enough that it sits on my desk. I'm interested in doing another one for my ink samples. Mine is organized by manufacturer and I've even organized edges punched with my border punches and border dies.
The beauty is that you can actually pull out sample and lay it on the card you're making to see it if works. I can't visualize embossing – I have to see it in person so this accurately shows both sides and makes me use embossing folders more often than I normally would. I've labeled each card with the name of the embossing folder or border die so that when I select it, it's easy to find.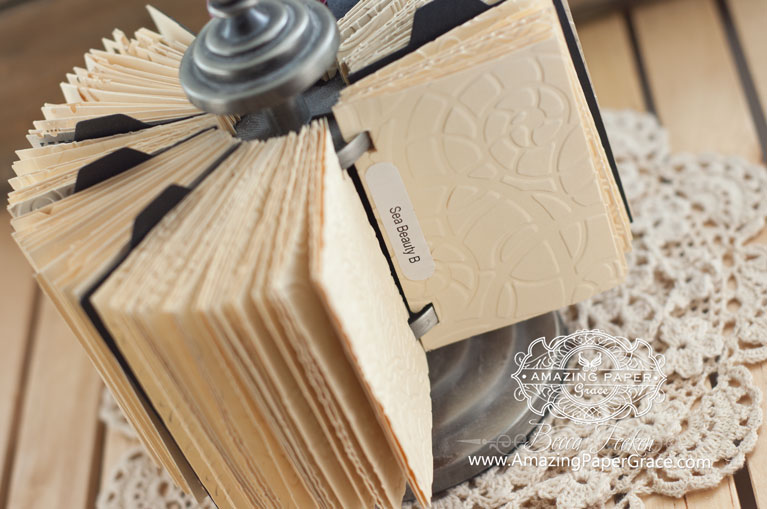 Originally this was sold by 7gypsies. Not only that, they sold extra (2-1/2″ x 3-5/8″) cards and you could purchase a punch so that you could use regular card stock and punch your own cards. It sits 6″ tall and is about 7″ wide fully loaded, has two tiers that accept a 2 punched card; I'm at 150 cards and still have room for more.  The original blog post that covered this storage is HERE.
I have to admit that my email gets filled up with 'can you help me find' requests and rarely have time to join the hunt. This time since I want one too, I thought it would be the perfect opportunity to (re)show my organization. With any luck, we'll find someone that has new stock of these that they never sold.
If you are a store or vendor and know where this can be purchased please reach out to me through my contact page.  I get questions on this product often and would love to help find more.


Thanks for stopping by, I'll see you soon!!