H
a
p
p
y
B
i
r
t
h
d
a
y,
B
a
b
y
!!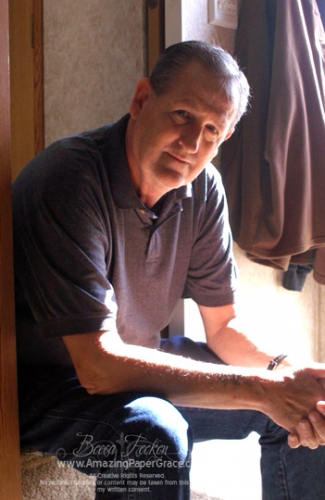 I do have a card to share today but first I wanted to wish my sweet and crazy husband a happy birthday!! He is truly a miracle and for every birthday he shares, I feel like I'm the one getting the gift. He is the love of my life and for the last 28 years, I've known that I was a lucky, lucky woman! I snapped this picture a couple of months ago when we were in San Antonio. Lol, he'll be a little shocked today to see his picture on the blog – from time to time he helps me out behind the scenes and when he wants to make me smile he calls himself Mr. Becca. (That's a joke – he's a funny, funny guy). So many of you have prayed for him and we both thank you. In the meantime, we're holding up the celebration for just a minute, long enough for me to get a blog post up and then back to the festivities.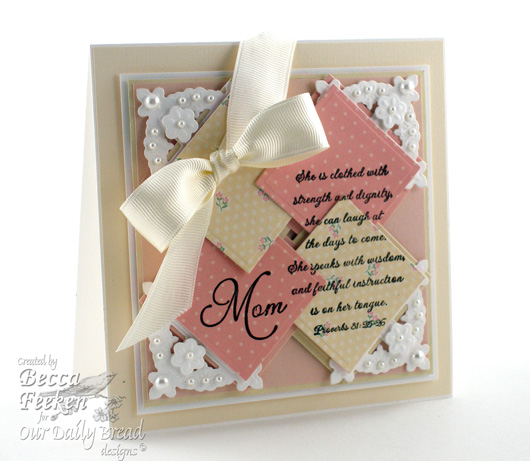 On to my card for the day – I made this a couple of days ago, and contemplated rearranging things but decided to just go with it. The card is made up of eight squares that I stacked then interlocked – Spellbinders™ Classic Squares LG and Spellbinders™ Classic Squares SM. The more I look at it Escher comes to mind. I didn't want to cover up the squares so I stamped directly on them and I really debated the ribbon, but it needed something more than just the geometrics. I simply love, love, love the Spellbinders™ Cross Collection – it's has so many uses including the obvious so I tucked each cross under the edge of my square for a look that I really like. The sweet little flower in the center is from Spellbinders™ Flourish Accents set.
This goes off in the mail tomorrow for my mother, whose birthday is in a week. I used one of the new Our Daily Bread Designs sets that cover "Mother Occasions". Happy Birthday is stamped on the inside but this verse from the Mom set says it all!!
Card Recipe:

Stamps: Our Daily Bread Designs – Mom
Paper: The Paper Company – Cream White, Solar White, K & Co.
Ink: Versafine Black Onyx
Accessories: Spellbinders Classic Squares LG, Spellbinders Classic Squares SM, Spellbinders Cross Collection, Spellbinders Flourish Accents, Pearls, Ribbon
You all bless me every day! I don't take it for granted that you stop by – thank you from the bottom of my heart!