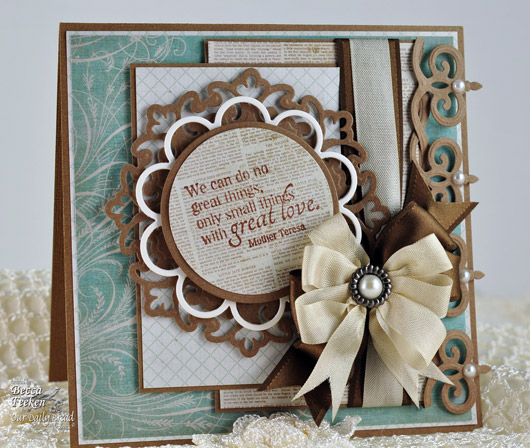 Sweet blog friends, I can't tell you how much your support means.  Life has changed for me so much and you are an absolute life line for me.  The value of a kind supportive word is priceless – I'm so grateful.  Hang in there with me, okay?  In the meantime, after months and months of Christmas cards, it was great to channel a little energy into something else.  Today I have a card made using a color combination I don't think I would normally pick up, but it will go in my little inspiration book – this is how it played out in my mind.  
Using another of the sentiments from this months Our Daily Bread Designs release called Simple Things – I layered Spellbinders™ Blossom Tags and Accents on top of Spellbinders™ Parisian Motifs.  That's a new one for me – it just goes to show that even when you think there's no other way to shuffle around the layers – the combinations are endless.  I topped off with Spellbinders™ Classic Circles LG and edged my bottom panel with Spellbinders™ Twisted Metal Tags and Accents that I cut in half to use as a border.  (Yep, I'll be trying that again :-))
I had a doctors appointment today and waited for the doctor two and a half hours past my appointment time.  The crazy thing is that everyone in the waiting room was behind me in line and they waited patiently like this is how the world is supposed to work.  One man mused that this doctor had emergency surgery that cropped up every day during appointment time – at least four of the last five times he had visited.   As well as being armed with the kindness of your supportive words, God graced me with the patience of a saint today.  This was the first time visiting this doctor and he didn't even pretend to be nice – I came away thinking he didn't like his job.  All of Johns doctors were so nice such that if I ever ran into them in the grocery store, they would stand there and talk to me for a while.  Still trying to get cleared for foot surgery and insisting on answers, I'm pressing on!!  Big hugs, I'll be back soon friends.