Thank you so much for your well wishes on my birthday today. I had a terrific day with my DH . . .we cruised out of town for the day to a nearby town. A treat because we're normally not able to do this.
I don't have a card to post today because I was away, but I wanted to give you a little peek at three of the things he got for me while we were out. Now if you are susceptible to enabling, I would encourage you to look away now. My real birthday present will come later this month but in the meantime, this was a little bonus and I'm not complaining.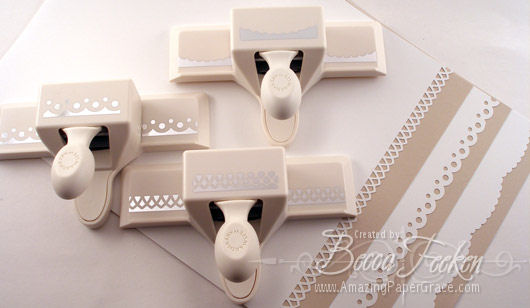 Now you all know I am all about the border punch!! Wow, wow, wow…I love these!! They are called Lattice Arch, Scallop Dot, and Double Scallop. I have quite a few of these Martha Stewart border punches – they are manufactured by EK Success and seem to be no less, no better than the Fiskars borders I use also. I cannot wait to create with them!!
What happened was – on our way back home we ducked into a Michaels. My word, this Michaels was not like one I had seen before…it had been totally renovated and was not recognizable. I was literally walking through with my mouth open. Apparently renovations are coming to many Michaels (probably not the one in my town tho'). When you walk into the store, immediately on the right is a bead area. It had a bar with all manner of beads sorted into containers so that you could buy them individually. There were no parallel shelves it was all set up to be a contained area – when you stood in the bead area you felt like you were standing in a bead store! The entire center of the store was devoted to scrapbooking – what? It reminded me of Archivers. All the scrapbooking stuff was separated into themes. I was amazed how much real estate this was all taking. Oh, and the new paper products – Basic Grey, Prima, Heidi Swapp, We R Us, Creative Imaginations there were just too many to remember. The stamp area grew immensely with tons of clear stamps. I was tickled that they've added Adirondack Ink Pads, Versamark Dazzle, Colorbox Chalk Inks. In the Martha area there were quite a few new stamps, I counted 6 new border punches and there were probably 20 new single punches. I've not heard anybody mention this change – lucky for the scrapbookers though this particular store seemed to change into a large scrapbook store with some other crafts. I asked several employees about the changes and they said scrapbooking and beading were the mainstays of this store which was why those areas were beefed up.
Anybody else seen one of the new Michaels? (yeah, I wondered what that new logo was about).
Hopefully after I get my chores done tomorrow I'll be able to work on posting a card.