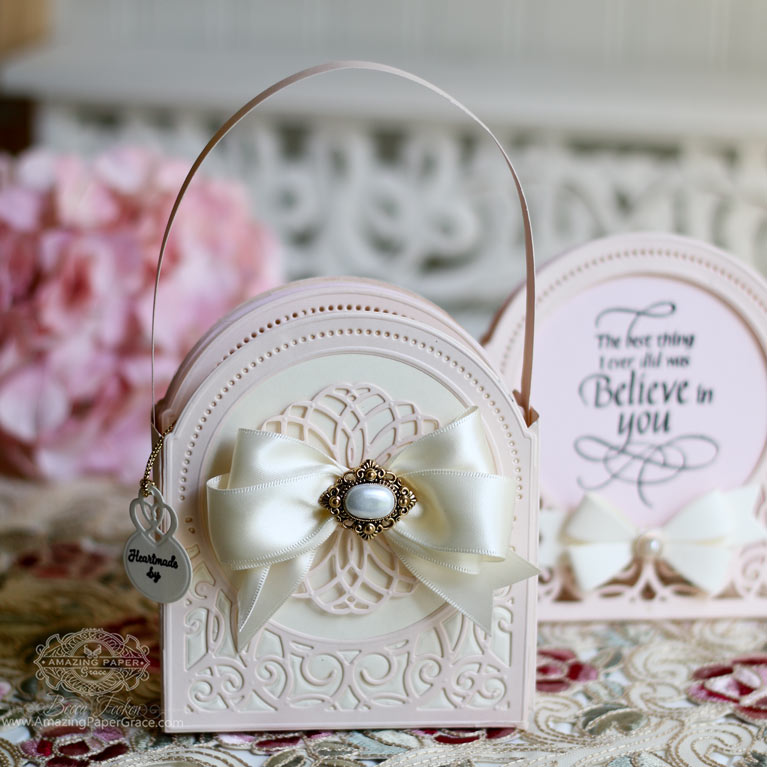 Good morning sweet friends!  Today's post is long with pictures, inspiration and a Grand Card tip!!  First of all let me say that I've caught up with mailing dies out to all prize winners – I'll list below those who have claimed their dies so that I could get them into the mail.  Otherwise, today I've made a Grand Dome Card Ensemble using Quietfire Design Stamps to create ready to go cards for several occasions in a sweet card caddy.   Three Die sets were used from the Amazing Paper Grace 3D Vignettes Collection by Spellbinders die sets:  Grand Dome, Petite Double Bow and from the Venise Lace Collection I used the center from Marcheline Plume.  The tiny tag (that I love hanging on things) comes from Graceful Tiny Tags.
Note:  All Amazing Paper Grace Collections are 15% off at Scrapbook.com until midnight MST on Thursday, February 22nd they are grouped together —> HERE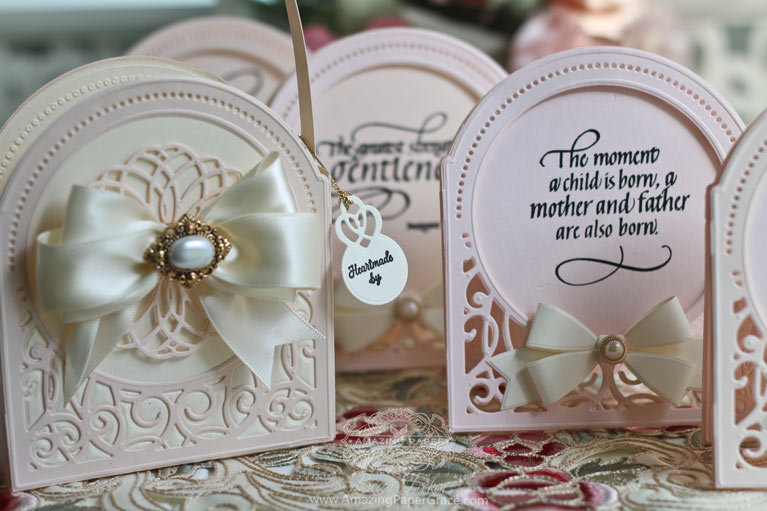 For the Grand Dome Card Ensemble caddy is assembled just as I did in this video except I'm using only the front and the back, no inserts.  I also use a side piece as a bottom piece and added a 12″ strip of paper for the handle.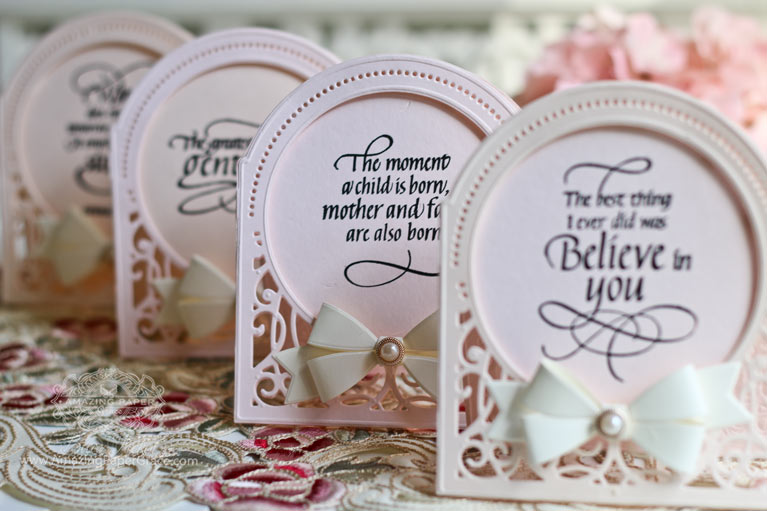 Next, for the cards I cut them double as I do using the hinge method.   The chads fall out of the front panel but do not fall out of the back panel with the 80lb paper I used.  Then I added an extra panel on top with an aperture.



I love making these type of sets because it means I'll have a variety of ready made cards on hand.
I used my favorite sentiments from Quietfire Design:

The Greatest Strength
The Best Thing – Believe in You
Worry
The Moment A Child is Born
Grand Card Tip:
Several people have asked how I get edges on a Grand Card (like the Grand Dome or the Grand Cabinet Card) without having the tabs pointing out on the side.  The way the side piece dies are configured, you can cut with slots or without slots.  For cards that have no tabs pointing out I simply flex and glued or taped down the tabs and covered with a duplicate side piece that has no slot!!


Stamps: Quietfire Design: The Greatest Strength, The Best Thing – Believe in You, Worry, The Moment A Child is Born
Paper:  Bazzill
Ink:  Versafine Onyx Black
Accessories:  Amazing Paper Grace Dies by Spellbinders, Grand Dome, Petite Double Bow, Marcheline Plume,  Graceful Tiny Tags.
Now, here are the winners, who won dies, whose prizes have been mailed!!  If your name is not on the list and you claimed a prize (within two weeks of announcement) from one of the blog hops – please reach out to me.
Crafty Cruiser (Doreen R)
D.ann.C
SuzzieQ
Emilia Tworzy
Anita Braddock
Kathy Jo Woods – I'm a Little Teapot
Victoria Luna
Monika Davis
Becky Green
Janet Saieva
Lynda Mellor
Sandy Artman – coming directly from Spellbinders
And now for an inspiration treat, this week the Creative Team is showcasing Z Cards today and they are gorgeous!!  I love what everyone has done with the single elements from the 3D Vignettes and a Z Card is a nice way to overlap the two layering elements.  These are cards that can be done without the Grand Bases and need only layered elements and embellishments :-)
Joanna used:
Layered Happy Birthday
Petite Double Bow
Jo used:
Tiara Rondelle
Grand Dome center element
Layered Happy Birthday
Tiered Rosettes


Thanks so much for stopping by!!