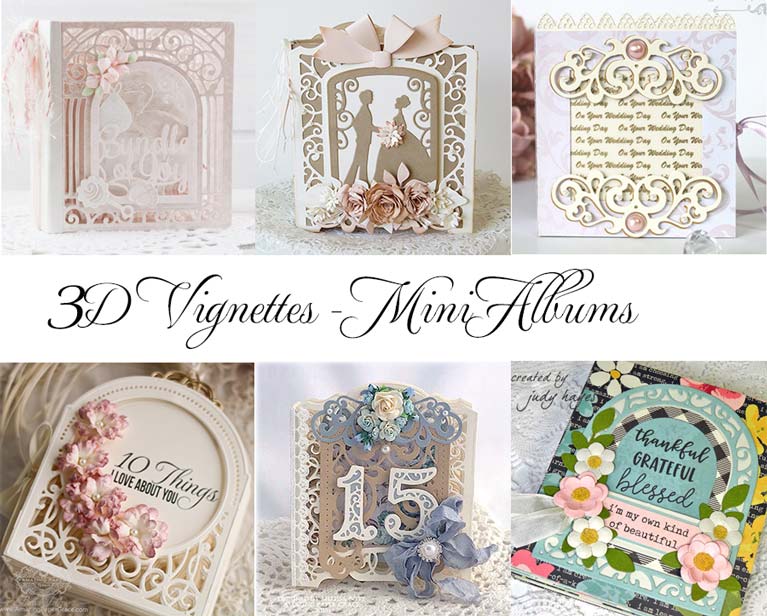 Good morning sweet friends!  Today's post is delightfully long with pictures and links to tutorials with our Mini Album Ideas.  When designing the 3D Vignettes Collection  die sets I played with the side pieces a lot and discovered that they resembled some of the spines I've used when making the occasional mini album.  In fact, when you view the method I use to construct the Grand Card Base, you can see that the inserts resemble book pages ——-> Video Here.  I issued a challenge to the Creative Team to share their favorite mini album ideas and what they've created is breathtaking.  Please be sure to follow links to each creative team members post where they outline or show the steps they took to make their book.
Note:  Remember, it's very easy to have a book spine without tabs pointing out.  The side piece dies are configured so that, you can cut them with slots or without slots.  For books that have no tabs pointing, simply flex then glue or tape down the tabs and cover with a duplicate side piece that has no slots.
3D Vignette Mini Album Ideas
Enjoy the view!  All of the books here use one the Grand Card Bases as a foundation – Grand Arch Card, Grand Dome Card  or Grand Cabinet Card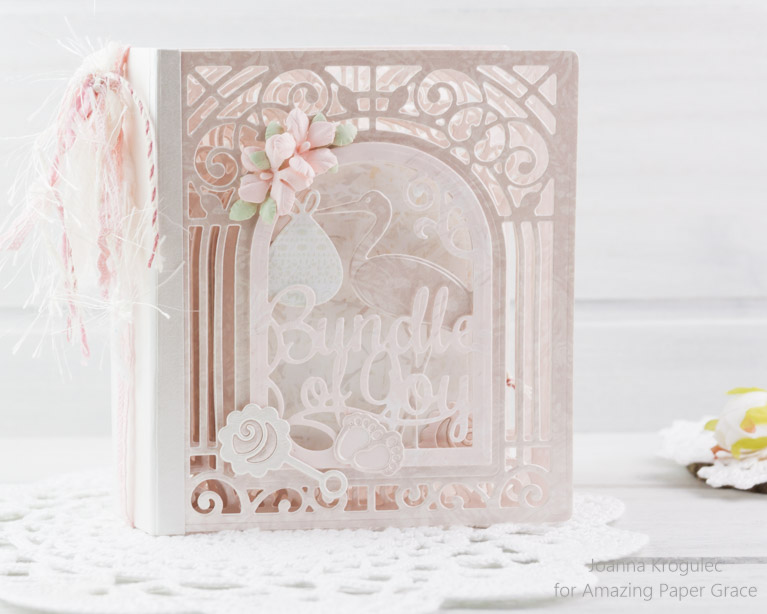 Joanna used:
Grand Arch Card
Layered Bundle of Joy
Grand Dome  (oval element)



Teresa used:
Grand Cabinet Card
Petite Double Bow
Layered Happily Ever After
Filigree Veil
Filigree Bookmark Tag
Decorative Swallowtail Tags





Jo used:
Grand Arch Card
Tiered Rosettes
Filigree Veil
Ornamental Arch
Layered Happily Ever After
Filigree Numbers


Melissa used:
Grand Cabinet Card
Filigree Numbers
Filigree Veil
Layered Happily Ever After






















Judy  used:
Grand Arch Card
Ornamental Arch
Cinch and Go Flowers III
Cinch and Go Flowers I


Becca Feeken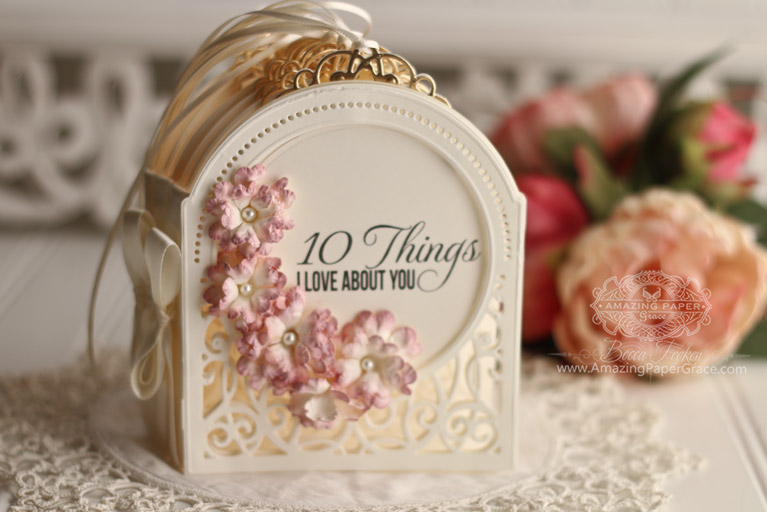 Becca used:
Grand Dome
Filigree Numbers
Cinch and Go Flowers III
Filigree Pocket
I hope you enjoy all the mini album ideas shared today.  Don't let the word mini album scare you, they are essentially many paged cards.  The stories that go on those pages, the pictures, the good wishes and all of your kind thoughts make them special keepsakes.    We hope you'll give them a try!