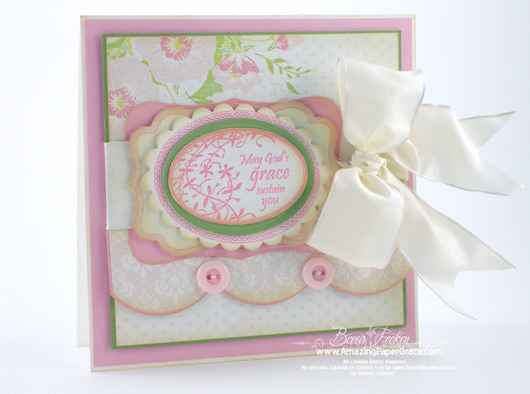 Hey there!! Yesterday was a fun day!! I received all sorts of interesting answers about my misspelled word and several readers nailed me on typos! I may have bit off more than I can chew because now I really have to watch my spelling!
Edited to Add: Oh I didn't explain this thoroughly – all in good fun, as a contest I asked readers to find my spelling errors/typos yesterday. Because I didn't refer back to my little challenge here, my lead into this post may have been taken out of context. When I saw the turn that comments were taking, I thought I would jump in and clarify. All is good in blogland and I have the very best readers What I was trying to say is that since I innocently announced what a stickler I was with spelling it looks like I'll have to watch my own!!!
Today I'm back with a more serene card in pink using the JustRite Stampers set called Thinking of You Centers and Borders. For the focal medallion I hand trimmed my first stamped image oval and layered it on Spellbinders Classic Ovals SM #4. The stamped border is then cut from Spellbinders Classic Scalloped Ovals LG #4. My next layer is a hand cut element and finally the bottom layer is Spellbinders Labels Eight. For embellishment I added a set of scallops using Spellbinders Jumbo Scalloped Borderabilites Petite.
I added ribbon and buttons for embellishment and smudged all my edges with Antique Linen Distress Ink. This card went together very easily partly because pink and green are smack dab in the middle of my comfort zone :-)

Card Recipe:

Stamps: JustRite Stamps: Thinking of You Centers and Borders
Paper: Petal Patch Kit – Carina Gardner
Ink: Color Box Chalk Ink – Rouge, Antique Linen Distress Ink
Accessories: Spellbinders Classic Ovals SM, Spellbinders Classic Scalloped Ovals LG, Spellbinders Labels Eight, Offray Wired Ribbon, Buttons
Thanks for peeking in to see what I'm up to today!