WooHoo, a couple of my new embossing folders came in yesterday…they were ordered more than a month ago…grrrrr. It was great to get to play with them, and again I resorted to the foil paper – this is a precious shade of light blue. This card is a big one…I think I got carried away because with the snow dots you can do endless embossing, you just keep adding on to the start and it all meshes due to how they laid out the folder.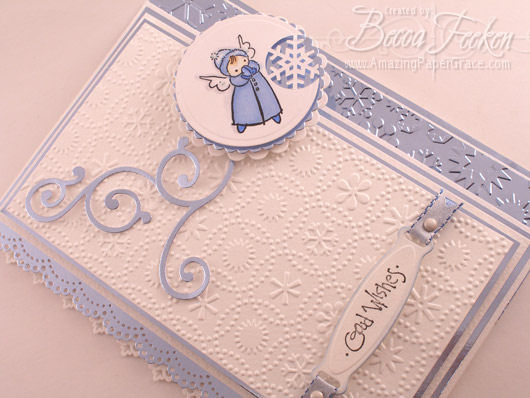 Supplies:
Stamps: Stampendous – Angel, Printworks – Sentiment
Paper: Fabriano Acquarello Watercolor, Foil Paper – Walmart
Ink – Black Brilliance
Accessories: Cuttlebug Snow Dots Embossing Folder, Cuttlebug Snowflakes Embossing Folder, Nestabilities, Quickutz Swirl, Martha Stewart Scallop Border Punch, Fiskars Border Punch, Snowflake Punch
I'll hopefully have time today to play some more!! Life is good!