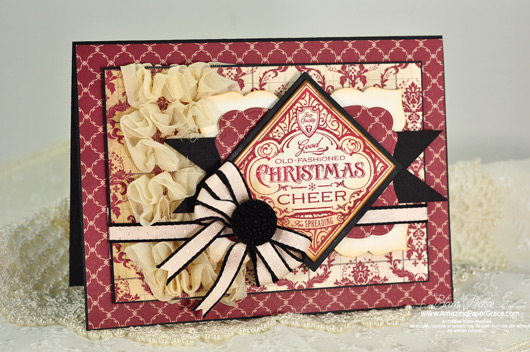 Hi there blog friends!  I dug into my Waltzingmouse Stamps stash to create a card for today using the Seasonal Remedies set.  I paired it up with some dreamy new (to me) paper and a stack of Spellbinders.  By the by, today's a pretty special day for those of us involved at Waltzingmouse Stamps!  Why?  Well, Waltzingmouse is being featured over at Moxie Fab World for their Stamp of Approval!!  Oh, congrats Claire, this is an amazing honor :-)  In the meantime, be sure to stop over at Moxie Fab World and see the sets that have earned a Stamp of Approval.    If this is one of the sets you love, then you need to hurry, hurry, hurry over and put your name on the list to try to win it!
For my card, I layered Spellbinders Label Twenty Three on the bottom of my medallion then added Spellbinders Labels Seventeen followed by Spellbinders Classic Squares LG.  I've had this unique trim by Bead Landing (Michaels) in my stash for quite a while – I'm glad it found a home today.
I absolutely fell in love with the paper over at Riddersholm Design, it has to be the most luscious Christmas paper I've played with this season – the pictures don't nearly do the rich colors justice.  I loved the heavy feel of the double sided cover weight cardstock and everything within the collection matched.  Take a peep here for a gallery using more of the Riddersholm paper.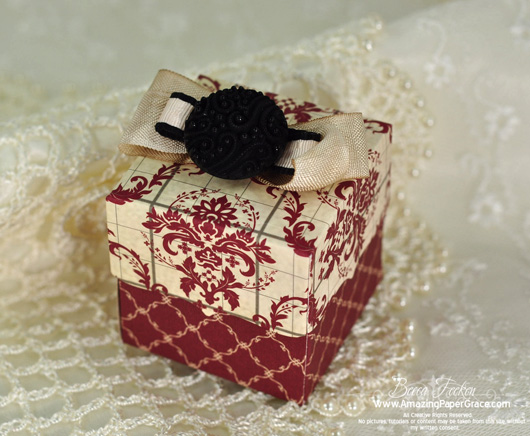 Since the paper matched so wonderfully I made one of the Spellbinders Square Bracket Edge Boxes to show it off.  I love that box!  It's so small (favor sized) and cute!

Thanks for stopping by today, I'll be back soon – smooches!