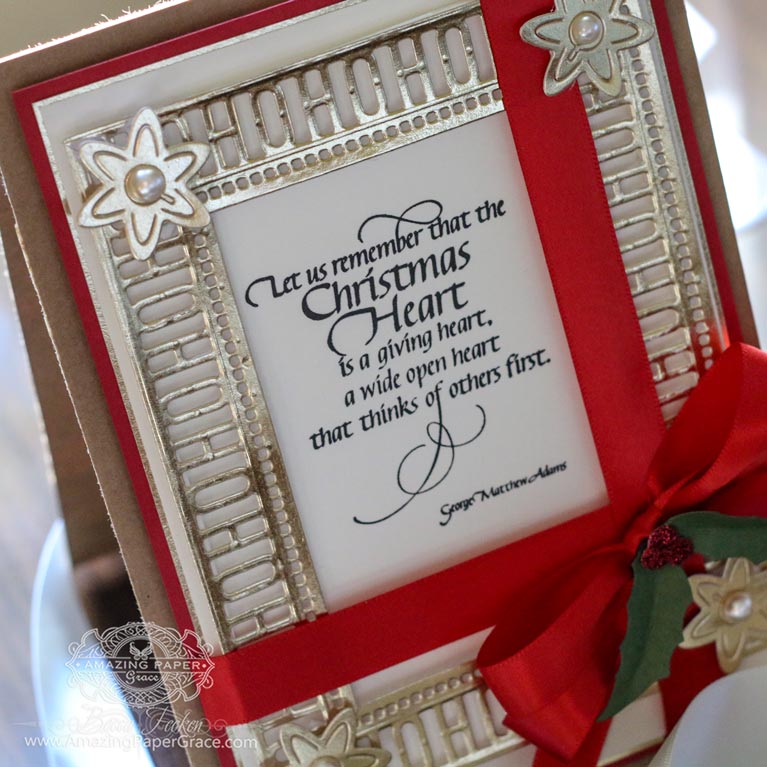 Greetings sweet friends! I'm so excited to be here today because I'm blogging from the Sunny UK, it's absolutely glorious here. Today there's lots of things to catch you up on including a new card using Charming Christmas Words and a winner from the Giveaway.  So,  keep scrolling!  Oh, also, many, many of my dies are being clearance out HERE.
Here's all I'm covering today:
1.  I have times for my Hochanda Demos – On September 25, September 26, October 3 and October 4 – See Below
2.  A new holiday card :-) See Below
3.  I'll have a winner from our Charming Cottage Hop. – See Below
4.  I have a new, slightly cheeky, giveaway to announce – What Becca Wore – (Because you normally only see my hands) – See Below
I've been huddled behind the scenes for quite some time, organizing, dreaming and making samples for an upcoming Hochanda show.  On Tuesday, September 24 and Wednesday, September 25 I'll be debuting a new collection on Hochanda and would love it if you could peek in.   In the US you can watch Hochanda right from your browser just like you watch Youtube.  Simply go to www.hochanda.com  and click on "Currently On Air".  From the UK you may watch in a browser as well as a selection of television channels.
Show Times
| | | | |
| --- | --- | --- | --- |
| Date | Showing | US Time  (EST) | UK Time (BST) |
| Tuesday, September 25, 2018 | Shadowbox Vignettes |  1 pm & 3 pm |  6 pm & 8 pm |
| Wednesday, September 26, 2018 | Shadowbox Vignettes |  4 am, 8 am & Noon |  9 am, 1 pm & 5 pm |
| Wednesday, October 3, 2018 | Glorious Glimmer Classics |  1 pm & 3 pm | 6 pm & 8 pm |
| Thursday, October 4, 2018 | Glorious Glimmer Classics |  4 am, 8 am & Noon |  9 am, 1pm & 5 pm |
New Card


I haven't shared a card in a while, so I thought I would plug along at my growing Christmas Card List.  I pulled together a card framing a new Quietfire Design sentiment – called Let Us Remember.  It's made using Charming Christmas Words for a frame.  The technique is similar to one I've used in the past.  I  mitered each edge of the word frame by cutting at an angle, but it's also easily done with the Graceful Frame Maker Die (currently on sale).  I found this was a simply cool way to frame any sentiment and add embellishment to your card.
Giveaway – Winner from Charming Cottage Blog Hop
Thank you so much for entering.  We combined all the comments from all six blogs in order to randomly pick a winner.
The winner – international included – who will get the die of their choice from any of my collections prior to A Charming Christmas is:
A New Giveaway – What Becca Wore
In the past, when I've gone onto TV, I try to come up with some totally fun giveaway to celebrate the occasion – so, I have a New Giveaway.  This is a bit 'cheeky' to coin a British phrase but the name of the giveaway is "What Becca Wore".  Most people wouldn't recognize me by face because most often, you see my hands on my Youtube Channel, Instagram, and even my blog; I'm rarely in pictures and even rarer on camera.  Lol, many times when I'm answering your comments or chatting with Gracelets (those sweet people who visit Amazing Paper Grace) on Instagram, I'm comfy in yoga pants or jammies.  It dawned on me – those are not going to fly on air so I had to grab a couple of tops!
On September 25 & September 26 as well as October 3 & 4 I'll be appearing on Hochanda to share some demos on some of my upcoming releases.  News flash!  You'll get to see more than my hands!!
I'll be giving away dies from A Charming Christmas Collection.  Open to all including international friends.  Eligible to win one die of your choice on each of four days by following directions below.
Simply tune in to Hochanda on the dates listed above to have a look and notice the pattern and dominant color on the top I'm wearing.
Then Do Not Leave A Comment (because comments are public)

INSTEAD,  hit the contact tab in the upper right side of my blog.
In the contact form type the heading "What Becca Wore" and for each day separately,  Describe the Pattern of my top and Give me the Dominant Color of my top – one entry for each day.
1 winner will be picked for each day of the show.  Winners will be shared on September 29 for the September Shows and on October 6 for the October Shows.
Then, once you sent off your email from my contact form, please leave me comment on the blog (without any color information) and let me know what else you'd like to see me demo on TV.  To be fair, for the time frame of the contest I'll have to erase any comments giving color hints.


Stamps: Quietfire Design – Let Us Remember
Paper:  Neenah Classic Crest – Natural White – Cover – 80lb smooth, Gold Foil Paper, Kraft Paper – Parklane
Ink:  Versafine Onyx Black
Accessories:  Amazing Paper Grace Dies by Spellbinders,  Charming Christmas Words, pearl stickers, red satin ribbon 


See you soon!!  A special shout out to all my sweet UK readers – so lovely to be visiting and hope you tune in!