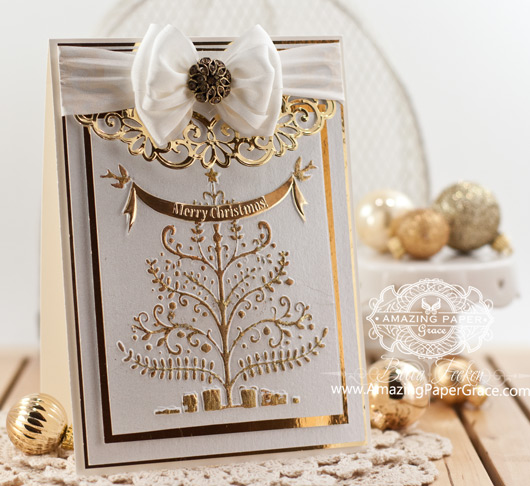 Hi there friends!  I'm checking in today with a quick card and a quick post to share.  Quick, because I've been on quite the craft wagon this weekend.  I'm so lucky to belong to a group of 12 ladies that have been paper crafting together for more than 12 years; we have a Christmas Party each year.  Collecting ideas throughout the year, we each make 12 (all the same) gifts and exchange them at the party.  I'm strutting a little bit from accomplishment because I made 12 bracelets – yes, I actually finished them!!  I wish I had gotten pictures but there just wasn't time.  Our party was amazing and now we're officially on the hunt for our ideas for next year.  All the hubbub of the weekend made me want to work on something simple so I picked this embossed card to work on.  The card is made from Spellbinders Merry Christmas embossing folder and the top header is made using Spellbinders Heirloom Oval.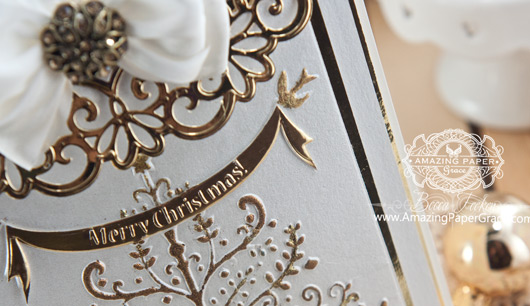 I used gilding flakes to apply the gold on top of the embossing.  Since it is not a precise method, the result looks shabby  and worn, I love it.  It was as easy as rolling my brayer through a dollop of Metal Leaf Adhesive and rolling over the raised part of the design.  Once dried, I applied 1 wispy sheet of leaf metal on top of the design and brushed away the excess!!  It's been a long time since I worked with this thin leafing, I can't wait to try it on a colored background!   For the gold banner, embossed the top part of the embossing folder with gold and cut the banner out then glued down for some contrast.
CRAFT SUPPLIES I USED 
Stamps: None
Craft Paper: Neenah Classic Crest – Natural White – Smooth, Gold poster board
Ink:  None
Accessories: Spellbinders Heirloom Oval, Spellbinders Merry Christmas embossing folder, Sewology Button, May Arts Silk Ribbon, Creative Concepts – Rose Copper Leaf, Speedball Metal Leaf Adhesive Size
Have a wonderful week sweet friends!!  See you soon!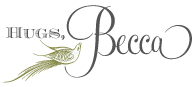 Question Parking Lot: