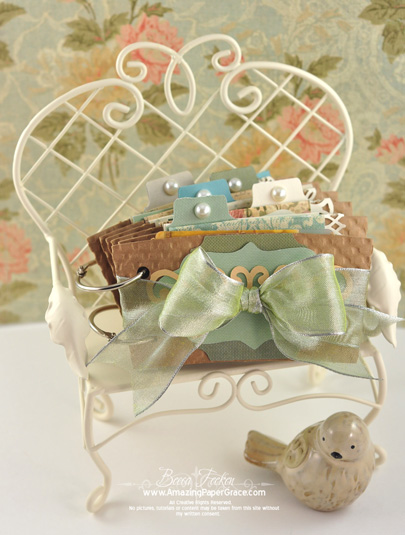 Hi there, this is what you get when you start out trying to give someone a simple gift and your mind runs away with you, lol!! I have a Starbucks Card for a dear friend of mine and while I was getting it, my gaze wandered over the cardboard cozy holders that you get at both Starbucks and I found out later, Panera Bread. At first I was going to decorate one of the cozy holders and put the gift card inside but then it grew into a book :-) For the decoration I settled on the wonderful Scripture Sets (Set 1, Set 2, Set 3, Set 4 and Series 1) from Our Daily Bread Designs. Below you can see the brown from my gift card peeking out from the first page.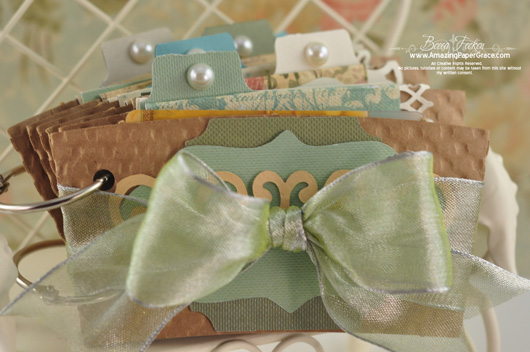 I started out by punching holes in the cozies. Then I decided I wanted a panel that was three inches wide. Each panel wraps down the frontside with the fold at the bottom and up the backside with the open ends tucked in a glued at the top. What this does is make a pocket so that I can put something extra inside each page.

I decorated each page back and front with coordinating paper and border punches and stamped Scripture using Scriptures Sets 1,2,3,4 and Scriptures Series 1 onto panels cut with my Slice.

I tucked one more scripture in the pocket of each page. I put a tab on each tucked in page so that it can easily be removed.
To finish up, I took one of the cozies for a cover. I hid the Panera logo and added a ribbon just to make it a little bit dressy! It was not a complicated project at all and once done I was a little bit proud of my recycling effort. I hope my friend likes it.
Project Recipe:

Stamps: Our Daily Bread Designs – Scripture Sets 1, 2, 3, 4 and Scripture Series 1, Light
Paper: K&Company, Bazzill
Ink: Versafine Onyx Black and clear embossing powder
Accessories: Slice, Tab Punch, Coffee Cup Cozies, Martha Stewart Border Punches, Binder Rings, Ribbon, Pearls