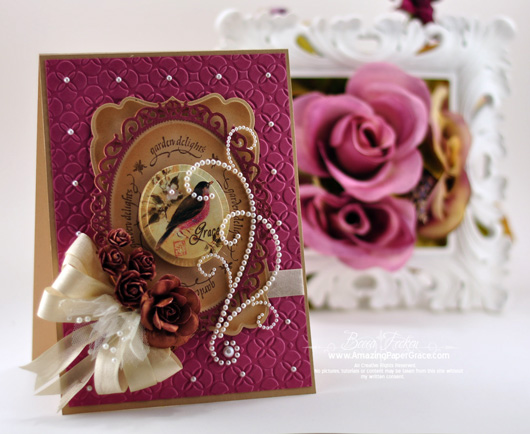 Hi there blog friends, where have I been?  I know, right!!  My blog has an owie that I've been trying to fix.  For now I'm going to leave it stand – it's really nothing you can see but something off kilter in the background.  I think that if I come back to it with fresh eyes I'll have better luck.  In the meantime a card to share, because I have a table full of new stamps that are absolutely calling my name and because I've missed you all!!  What a way to celebrate spring but with new Quietfire Design stamps!!  This wonderful design is from the Garden Delights set (of eight stamps) and  was crafted to fit Spellbinders™ Floral Ovals, so that's what I used to show it off – I cut two (one mauve and one tan) and simply trimmed out the oval using the piercing dots as a guide!!  I stacked it on Spellbinders™ Labels Seventeen and layered it on top of a panel embossed with Spellbinders™ Whimsy M-Bossabilities.  The center piece is a sticker from K & Company.
I hope you're having a fab week and a wonderful stroll into spring!!  I am :-)
I know this is a short post – I'm running around today.  Stay tuned, I have lots of exciting things to show you, so thanks for stopping by today and I'll see you soon!!