Hi there, peeking in on this fine Saturday morning. Do you have waaaaayyyy too many craft supplies? Today I have a project that's been on my work desk for several months, my frugal pretties kit.   Lol, I'm recycling.  By peeling off a portion of my working supplies (that I'll never be able to use) I've created a Pretties Kit for one of my friends, that won't break the bank.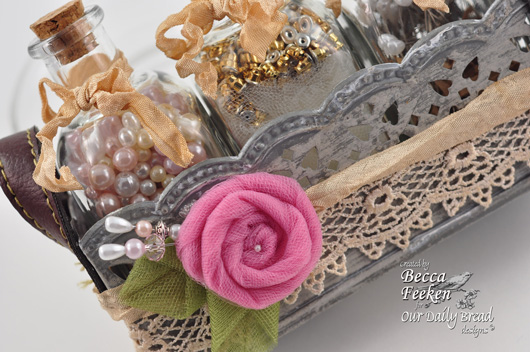 In my meanderings through Hobby Lobby I came across this inexpensive bottle set ($5.00) and thought it would be perfect for my endeavor.  I took some of my favorite lace and ribbon  from my stash and tea dyed it – so simple – why don't I do that more?  It's easy, I took one large tea bag and brought it to a boil and dropped in my lace for about 10 minutes (cotton lace – always test on a scrap before you use the good stuff) .  Yes, you can over do it – the longer you boil, the darker your item gets – (smirk) ask me how I know this.  From purchased tulle, I rolled this rose and folded two leaves.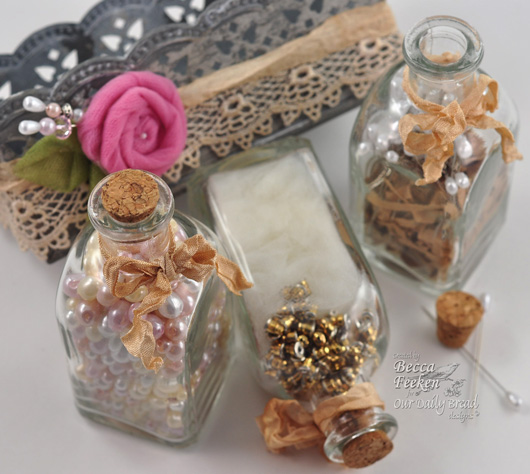 I loaded my bottles with pearls, corsage pins and earring backs.  To keep the pins upright, I put in a little bit of shred but I'm sure there are lots of other options.  For the bottle with earring backs I padded the bottom of the bottle with tulle so that the earring backs float right up at the top.  The tulle is not needed but I think it makes the ensemble look pretty because you can see what's in the bottle. 




Of course there has to be a matching card to go along, right?  I think this new sentiment from Our Daily Bread Designs shoots right to the top of the list of my favorites.  The new set called Blessings includes Count your blessings.  Name them one by one. What a stunning way to tell someone what they mean!  I opted to put this on the front of my enclosure card and on the inside I've written, "I count you!"   I used a couple of elements on the card, which measures 4″ x 4″ On my kraft base I layered and matted design paper which I stamped on directly.


For a topper I added Spellbinders Scalloped Borderabilites Petite with a small element from Spellbinders Fair Isle Pendants.  At the top of the card I added a small decorative element from Spellbinders Lattice Pendants.  I then set in my twirled rose and leaves along with more of my tea dyed ribbon.  And, of course, I added a pretty – to show the recipient how to use the kit.
For my tag, Spellbinders Standard Tag, I echoed the same elements – the scallop and the small Fair Isle piece and tied on some of the tea dyed ribbon.  I'll package it in a basket or tie it up in cellophane and call the job done!!
I hope that as all is going well during this busy season of "have to do's"!!  I hope you're clicking through your list and can call the job done!
Count your blessings, name them one by one.  Of my blessings I count you!!  See you soon friends!