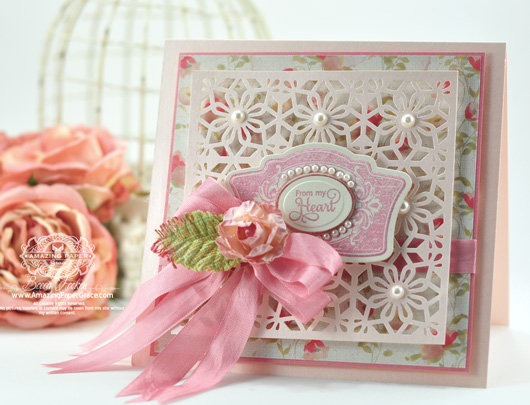 Happy sleep late, lollygag in sweat pants, weekend day blog friends.  All I can tell you is that today, nothing can keep me from smiling and humming and singing my favorite songs off-key.  It's a busy day but I'm blessed to be busy.  How about you?  Isn't just the 'little' things that accumulate like snow to make you feel that life is good?  Yep!  Well, another card to share today and this one is for Valentines Day although the outside sentiment will disguise it as just about anything.  I used a sentiment and matching label stamp from JustRite Papercrafts  set called Vintage Pearl Labels.  It's mounted on a custom JustRite Die called Vintage Labels that matches the stamp set.  I pulled out a Martha Stewart punch and punched 9 times to make the 4-3/4″ square background.  
Don't forget, JustRite Papercrafts is having a fabulous New Years Sale and everything on the site is 25% off.  In my experience they have sales throughout the year, but never at 25% so if you are a frugal coupon shopper like me – I'm just sayin' :-)  
Okay, so it's time to shed the sweats and run some errands.  Hugs to you friends, and those of you up north in the snow storm, warm hugs!