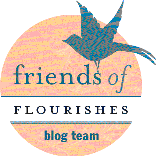 I have been busting at the seams trying to hold in some news I'm so happy to now share.
Flourishes has created a new team, called Friends of Flourishes!!
It is a team of talented bloggers handpicked to showcase Flourishes Stamps; I am so honored to be among the cast of stars that were picked for this new adventure. Believe me, when I received the email, I had to pinch myself ! So, throughout the month, I'll have cards using Flourishes stamps to share and hopefully inspire you. I have new links in my sidebar showing the all the Friends of Flourishes – be sure to pop over to the Flourishes newsletter to read about each of these talented cardmakers – Joan Bardee – Paperlicious, Cindy Haffner – Cindy Haffner's Corner, Cindy Lawrence – OneHappyScrapper and Laura Fredrickson – Scrapnextras.
For my first card I used the Flourishes Damask background – it has become a staple in my collection! It's a very elegant stamp that alone makes for a very classic card. I love a go-to type of stamp that I know will accomplish every occasion. For this one, I picked birthday, can you ever have enough birthday cards?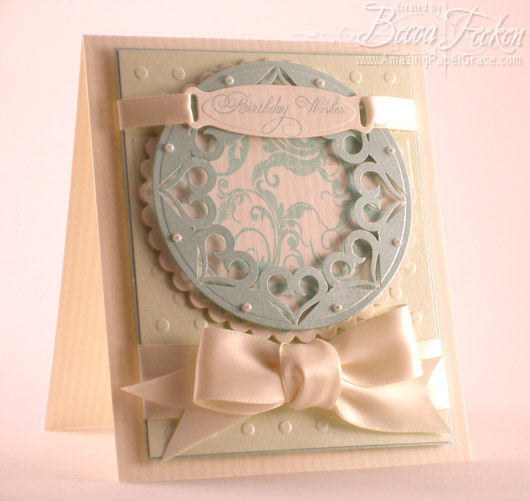 The card base is a ribbed cardstock called Cottonwood, layered on top was Aloe topped with Cucumber paper all from The Paper Company. The Cucumber layer is embossed with new Welcome Baby Cuttlebug Embossing Folder. The focal image is a medallion made from a large nestie scalloped circle stamped with the Flourishes Damask stamp with Versamagic Aquatic. The punched top layer is made from a corner punch used on a nestie solid circle and is embellished with half pearls. (Note, once punched the center falls out and you are left with a wonderful filigree type frame). Thin cream ribbon paired with a Nestabilities Ribbon Tag holds the sentiment Birthday Wishes stamped in SU Sage Shadow. The Birthday Wishes sentiment was created from another Flourishes set – Flourished Words – yes another staple to my collection. With these two sets I feel like I can tackle any occasion. The card screamed for a large bow – I caved in!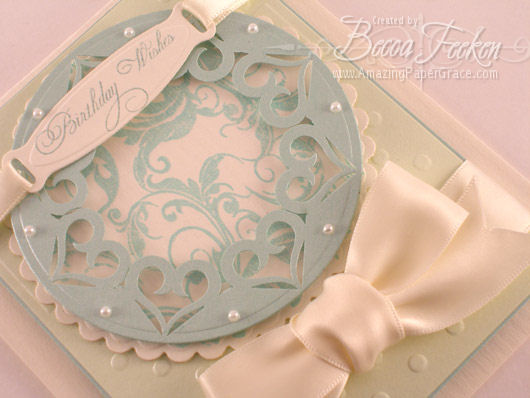 Supplies:
Stamps: Flourishes Damask, Flourished Words
Paper: Aloe, Cucumber, Cottonwood – The Paper Company
Ink: Versamagic Aquatic, SU Sage Shadow
Accessories: Cuttlebug Welcome Baby Embossing Folder, Nestabilities Ribbon Tag Trio, Scalloped Circle, Circle, EK Sucess Corner Punch, Cream Ribbon, Half Pearls
Thanks for stopping by!