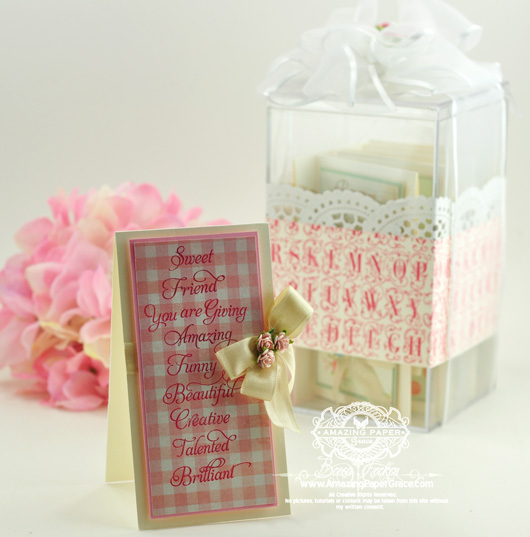 Sweet blog friends, today is day three of samples using my new sets and I love, love, love the Just The Right Words Set from JustRite Papercrafts.  In my samples today I'm using all three sets.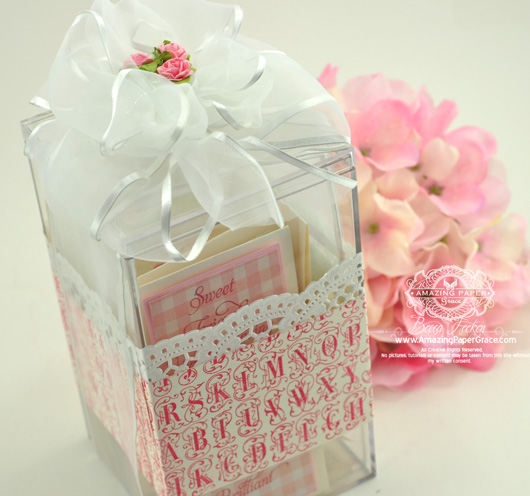 So this is a stamp set that I dreamed of for a long time.  Lots of stamp sets feature the same words, so I have lots of duplication and was looking for something different.  For the last many months I've had a piece of paper beside my computer and every time I thought of a word I couldn't find on a stamp set but wanted, I wrote it down.  My other issue is that I always seem to be in a hurry – I fall flat and get a little flustered when trying to assemble sentences from a huge stable of words – I just get lost.  It seemed to me that if I could just pinpoint two phrases that cover most situations that I could give a couple of words to fit in the blank to make it ultra simple.   "Because you are so _______" and "I ______ you" seemed to fit the part and the wonderful thing is that you can use one outside and one inside and you can change the order!  Throwing in Friend, ly, You and Are makes it so that you are not locked into the phrases.  I immediately knew that I'd create a sample set of cards that I could run to quick, fast and in a hurry when I'm trying to get packages in the mail and have something special to say.  I pulled together a set of enclosure cards – I send these out all the time, I can't keep them around because they are small and go perfectly with a gift or box I'm sending out – these are 3″ wide by 5.5″ tall and fit in an A2 Envelope.  Now don't laugh when you read all the sentiments, my goal was to use every stamp today!!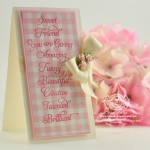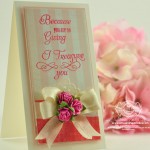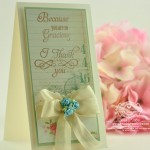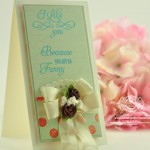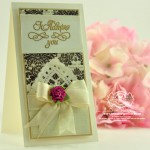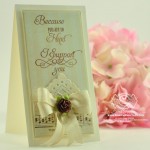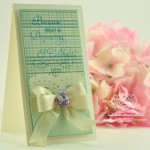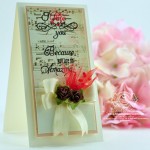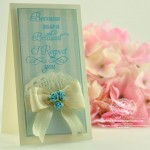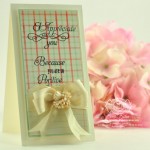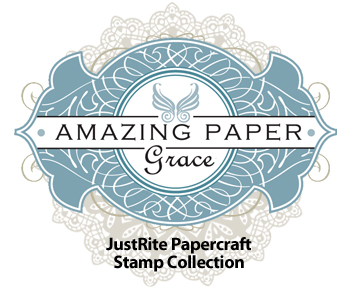 Starting now and ending at 11pm Central Time on July 11th, you can leave a comment to be able to win the Just The Right Words Set. You're able to enter once by leaving a comment on this post and we're giving away one set for each 100 comments received. If you want in on the first batch, feel free to go ahead and pre-order – if you win we'll make an adjustment to your order.  For your comment, please let us know how many card you think you send out each month? Tell us all about it!
For my project today I simply grabbed a clear container and decorated it with a band using a paper doily and paper stamped with  Vintage Alphabet Soup Background then tied ribbon on and embellished with flowers.  So easy and I'll be able to find this when it's time to use the little enclosure cards.  For each card I used a premade My Minds Eye – Lost and Found – Preprinted Double Sided Card in an A2 size.  I love the cardstock weight and these premade cards give me three patterns.  I cut a 2.5″ x 5″ strip and matted it.  I also added a little piece of doily and seam binding.  Each are on a card base that is 3″ x 5.5″ made from Neenah Classic Crest Natural White 80lb Cover.  Now my only challenge is to keep my little container full :-)
Thank you so much for your kind words this week, I can't tell you how exciting this has been for me.  There's more to come – remember Something Good is Always on the Way!!