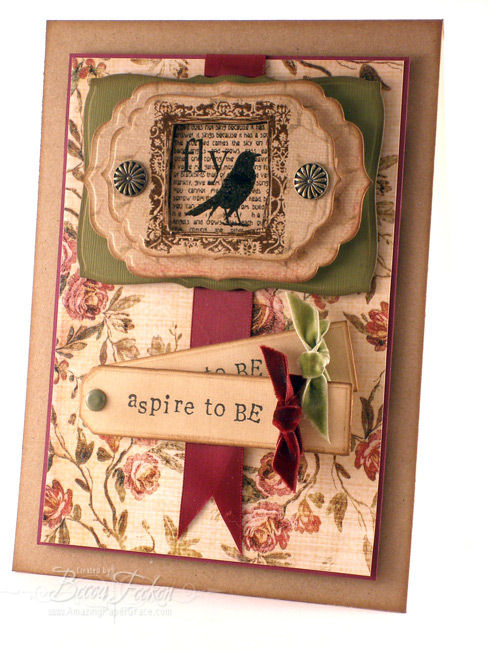 This weekend was very busy at my house. I began to clean and recuperate a little from some heavy duty stamping commitments that I'd worked on for the month and my baby boy (my only boy) moved out on his own. He is in college and works and makes enough money to be on his own. He felt it was time to take the next step. So, just like the mother bird who with one breath moves the young to the edge of the nest and coaxes them out, in the next breath she prays that they will fly. (Sigh!!) I knew exactly which stamp I would pick to commemorate this occasion. Don 't feel sorry for me yet though, hang on through the entire post, and you'll see why.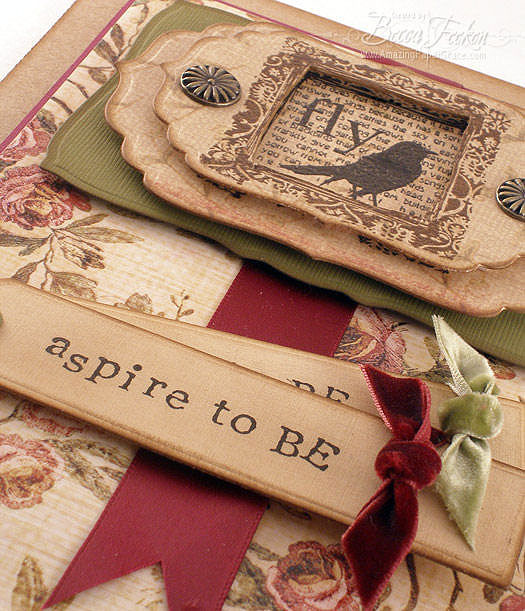 Okay, a little about my card first – the paper is just beautiful – you should see it in real life. My challenge with it was to arrange things so that I wouldn't cover up the beautiful roses. I came up with this design and you'll notice there are no big bows – it would obscure the paper too much! For the focal point I mounted two staggered sizes of the Spellbinders Labels Four die on top of the Spellbinders Mega Curved Rectangles die. One of those dies is old and one is new – I picked them to show you that they will all fit together well. With a brown ink, I stamped the Fly stamp on the top Label Four die cut and then cut the center out with a craft knife, leaving as much as I could of the frame. Then on the second Label Four die cut, I stamped the image again, but this time with black. I then cut one of the Mega Curved Rectangles and smudged each of the three layers with Brushed Corduroy Distress Ink. I then popped up each layer of die cut. For the other sentiment I cut two Spellbinders Tags and stamped Aspire to Be then smudged the tags with Brushed Corduroy and Walnut Stain Distress Ink.
Once I finished and looked at the card, I nodded a yes — this is what if feels like to let go (something I struggle with). At any rate, you will be relieved to know that my son is close by as he goes to college where we live. Even better he picked the most amazing room mate that I totally approve of. He chose to live with a young woman that I've known for over 23 years and I don't think she will steer him wrong – he chose to share a house with my daughter. So tell me, did I dodge a bullet or what?
Card Recipe:
Stamps: Hampton Arts, Inkadinkado – Sentiment
Paper: Design Paper – Prima, The Paper Company – Cream White, Burgundy, Kraft, Bazzill – Palo Verde
Ink: Black Brilliance, Brushed Corduroy Distress Ink, Walnut Stain Distress Ink
Accessories: Spellbinders Labels Four die, Spellbinders Mega Curved Rectangles, Satin Ribbon, Velvet Ribbon, Brads
Thanks for stopping by today. I'm tickled that I could share my story with you!