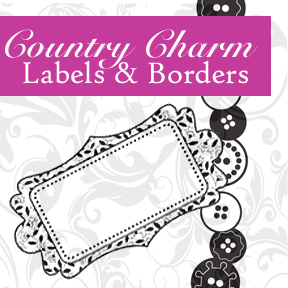 Today is a new release for Flourishes and the ladies at Spellbinders are hopping along!!  These sets are gonna blow your socks off – they're darling and remind us of all things cozy at Grandma's House.  We don't need to tell you that tags and labels are two of the trendiest items to hit the card making market in a long time! And, to help you add style and pizzazz to your creations, Flourishes has teamed up with Spellbinders Paper Arts to make sure you have the perfect set of stamps to match a darling set of tag style dies. Wonderfully whimsical and reminiscent of Grandma's calico prints, Flourishes "charming" set offers three labels that coordinate perfectly with Spellbinders Grommet Tags (S4-322).  Designed by Becky Fleck, you'll also find 6 beautiful sentiments and 4 accent stamps to dress up your labels (Country Charm Labels)!  Pair that with Flourishes Country Charm Borders and you have the perfect set to make darling note cards in minutes.  Flourishes coordinating Country Charm Borders set features five border strips that match the labels set to a tee.  What fun!
When I saw this set, I immediately thought of country pin cushions and all the neat sewing tools that Grandma used to have.  Whether she was quilting, cross stitching or mending my clothes, a basket or jar of tools was always handy.  I decided to whip up some quick gift sets using the tags and borders on both my Mason Jar Pin Cushions and my note  cards.  These are meant to be gifts for some of my sweet crafter friends and boy did they ever whip up quickly!  Here are the three separate pairings:

Set of Leaf Pins and card.
Set of Assorted Ribbon and Card



Set of Assorted Buttons and Card

It was easy to coordinate fabric with the ink colors and the print on the tags – so country.  Perfect for a gift set.
SUPPLIES I USED
Stamps: Flourishes – Country Charm Labels, Country Charm Borders
Paper: The Paper Company – Kraft, Bazzill, Coredinations
Ink: Distress Inks – Fire Brick Red, Sapphire, Pine Needles, Versafine Onyx Black
Accessories:  Spellbinders Lacey Ovals, Spellbinders Grommet Tags, fabric, Mason Jars, stuffing, hot glue gun, buttons, pins, ribbon

Because Flourishes knew this set was a match made in heaven with Spellbinder's Grommet Tags, both design teams are joining forces for a fun-filled show and tell blog hop! Make sure to hop on over and see….
Barbara Anders
Christine Okken
Cindy Lawrence
Danielle Kennedy
Dawn Burnworth
Julie Koerber
Leslie Miller
Stacy Morgan
Heidi Blankenship
Beth Pingry
Margie Higuchi
Holly Simoni
AJ Otto
Latisha Yoast
Kazan Clark
Terre Fry
Becca Feeken You are Here :-)
Julie Overby
Linda Duke
Sherry Cheever
Christine Emberson
Gloria Stengel
Judy Hayes
Michelle Woerner
Tina McDonald
Tonya Dirk
Windy Robinson
Keep in mind, if you like what you see, both the Country Charms Labels and Country Charms Borders are available now — just click the links to see!  Thanks for stopping by and happy stamping!