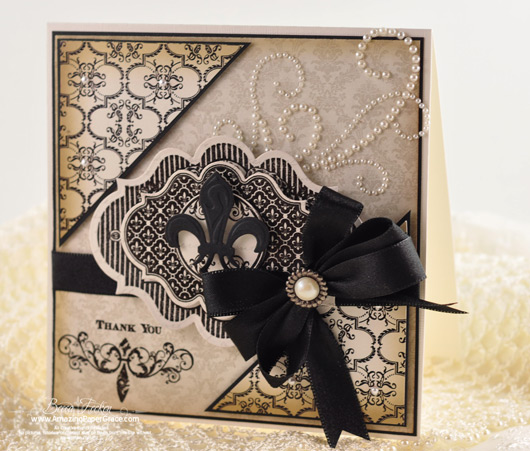 Hi there blog friends!  Welcome to the final day of JustRite Stampers November releases.  I have to admit, this is my favorite of the new release sets because I love, love, love the fleur de lis motif.  This set, which was designed to match Spellbinders Labels Twenty, gave me so many different options.  When it was time to sit down and stamp, I stamped out everything and mixed and matched to find the combination I liked best.  Ha! I liked all the combinations!!
Because I had cream/black design paper, I decided to follow that color scheme without adding in any other accent color.  Yay, that meant it was time to pull out pearls and satin for a dressy card :-)  Most of the elements are from the new Fleur de Lis Labels Twenty set and the bottom layer (which I love) is from the Musical Notes Labels Twenty Set.  I cut out all elements with Spellbinders™ Labels Twenty and because I wanted dimension — from the last element I cut out the circular center with Spellbinders™ Standard Circles LG.  After I popped that last circle up, I pulled out my favorite Fleur from Spellbinders™ Antiquities and placed it as the final element.  I know I'm gushing, but I simply love the large fleur stamp that I used in the bottom left corner.

This is definitely my favorite set this week.  Oh, the possibilities :-)

There's plenty of inspiration to see by visiting the other Design Team Members to see what they created today.

JustRite Inspiration
Becca Feeken
Kellie Fortin
Heidi Blankenship
Sankari Wegman
Angela Barkhouse
Michele Kovack

Edited to Add:  You are invited to join JustRite for a Christmas Linky Party on Wednesday November 2nd.  Our Christmas Linky post will go live at 12:01 am to join in the fun simply link your JustRite Christmas project to the Christmas linky party blog post. The linky party on this post will remain open thru Nov. 8th.  Feel Free to upload your JustRite Christmas Projects anytime during the week. Please make certain your link is directly to your project, not just your general blog home page or overall photo gallery, so we can find it easily.  Our only requirement for joining in the fun is that your Christmas Project or  your card must use JustRite Stamps.  I can't wait to see what all your creative minds come up with!  You may share as many Christmas Projects as you like during the week long party.
Remember to take a moment and smile today.  I hope your day is glorious!!