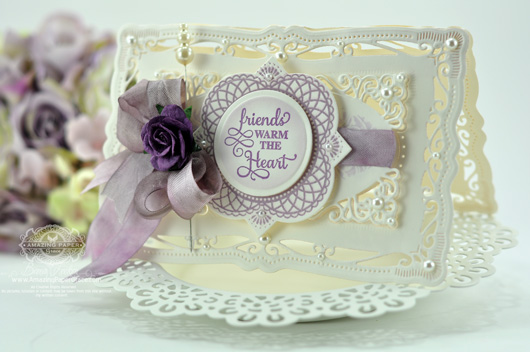 Hi there blog friends, I have another shaped card for you!! Purple is the order of the day :-)  I love taking all the new filigree dies and layering them for a lacey look.  I started out with Spellbinders™ Radiant Rectangles and cut so that I would have a hinge.  For my back side I cut the same combination but left out the middle piece so that I would have a solid back.   I did cut out an extra middle piece so that I would have something to layer with – I popped it up on two pieces of foam tape and stamped on it with Garden Gate Background Stamp.  On top of that I layered a JustRite Papercrafts custom die – Vintage Labels Three that is stamped with a matching stamp from For All You Do Vintage Labels Three.   I finished off by one more small little layer made with Spellbinders™ Standard Circles Small.  I filled it with a sweet sentiment from Circle of Love.
Also, be sure to visit me tomorrow, March 1st, at noon (EST).   I have a die template to show that you probably have not seen before ;-).  It was not shown during the recent sneak peeks, so tomorrow I'm going to give you some ideas on how to use it; it's truly a treasure.  It's being shown as a part of the Explore Beyond Sneak Peek and Giveaway.  Yep, as a part of the Sneak Peek there is a giveaway for die templates, so you want to be sure to read the entire Sneak Peek post for the link to enter.  In addition as a bonus, (not part of the Blog Frenzy) leave a comment on my blog March 1st post after 12 o'clock noon or my March 2nd post after 12 o'clock noon (EST) and I'll pick a name to receive the Filigree Topped Box with Cards I showed recently as well as some extra stamp set goodies I have stashed away.  I'll pick a name on March 3rd.
Many of you had questions about how to make the filigree shaped card that I described as having a hinge, from the card I showed on this post http://www.amazingpapergrace.com/you-amaze-me/.  Today I have a quick tutorial on how to!   Even though I leave the insides of my cards blank, I try to finish off the insides so there is no tape showing or no raw ribbon edges – this video will walk you through that but you can save a step or two if the inside doesn't matter to you.  Here's the tutorial: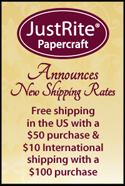 Oh, and more great news – JustRite has new shipping rates!!  Check it out!!   Thanks so much for stopping by today – if you're mildly curious about what I'll be showing, see you tomorrow!!!