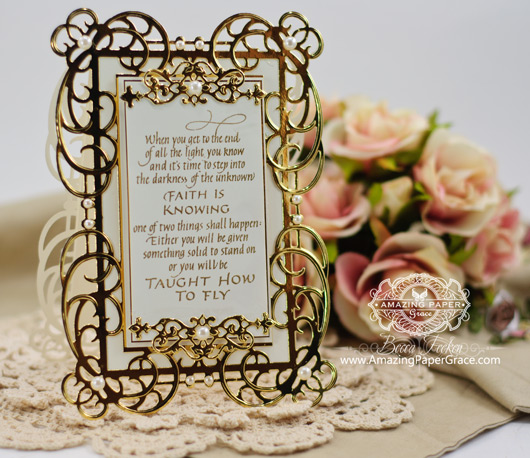 Good morning friends.  I'm really kind of tickled to show you my next project that's going in the mail today.  We're going through a family trial that is begging discouragement but I'm glad to report that we've aligned ourselves with the right soldiers where hope and faith prevail.  I'm helping my daughter, a strong and resilient young woman, who is steadfast in faith and has a determination that has taught me much the last several months.   We text and talk daily to keep the encouragement floating above our heads so I wanted to send on a framed saying that she can put on her desk to remind her that she is not alone.  I made her framed art with this When You Get to the End saying from Quietfire Design several years ago that is proudly displayed on her wall, but I wanted this to be close at hand.  To me it's like pulling a tool out of my tool box – so appropriate for the occasion and it will be sure to lift her up.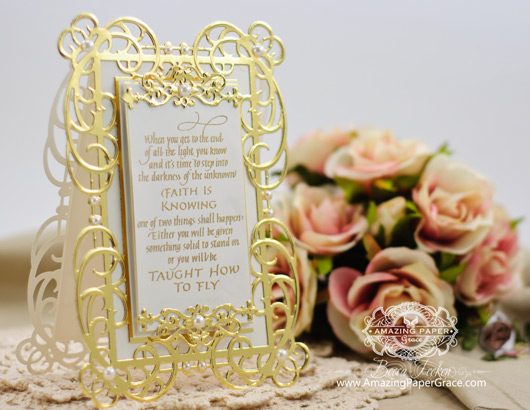 The die template I'm using today is Spellbinders 5 x 7 Mystical Embrace, embellished with the flourish from Spellbinders Outrageous Butterfly.  Below I'm showing you the back of the card.  It was constructed by cutting two of the large dies and scoring the backside of one die so that it will create a hinge for the card to open :-)
 Thanks so much for checking in with me today!  I'll be back soon!!