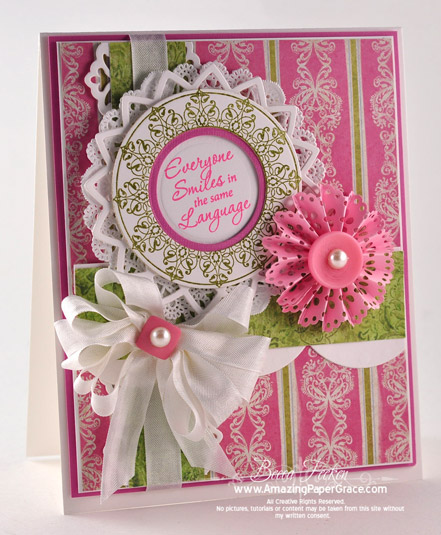 Good morning to you blog friends!!  I always love the beginning of a month because all the new stamps come out and there are so many possibilities.  My mind sure gets busy, I just wish my hands could keep up!!  Today I get to show one of the new JustRite Stamper Releases called Smile. I really do like how upbeat all the sentiments these are designed to have extra wide borders.  Because of that, it seemed very easy to get my layers in place.
I essentially created a medallion (are you shocked?) that from the bottom up included a white store bought doily, then Spellbinders Lotus Pendant then my JustRite 3 1/4″ border, cut with Spellbinders Standard Circles LG and Spellbinders Standard Circles SM.  To pull some of the color back into the medallion I nestled a little circle rim inside my border.  The vertical green panel was  bordered with Spellbinders Parisian Accents while the horizontal green panel was bordered with  Spellbinders Jumbo Scalloped Borderabilites Petite.
I used the newest technique, Figure Eight Loops on my Peg Bow Maker for the little bow and the Ruffled Flower Tutorial to create a little eyelet flower to go along with my doily.  Once I've figured something out I love to use it a couple of times to get it down pat!
By the way, JustRite is having a fab sale this week – you can take a peek at the goodies HERE.
SUPPLIES I USED
Stamps: JustRite Stampers – Smile (Ribbed Collection)
Paper: K & Company, Bazzill, Xpedx White Cardstock
Ink: Colorbox Chalk Inks
Accessories:
Spellbinders Lotus Pendant, Spellbinders Standard Circles LG, Spellbinders Standard Circles SM,  Spellbinders Parisian Accents, Spellbinders Jumbo Scalloped Borderabilites Petite, store bought doily, Buttons, ribbon, pearls

I'll see you tomorrow, but in the mean time, be sure to check out some of the fabulous samples made by JustRite Design Team Members!
JustRite Inspiration Blog
Kellie Fortin
Sharon Harnist
Michele Kovack
Angela Barkhouse
Heidi Blankenship
Kazan Clark