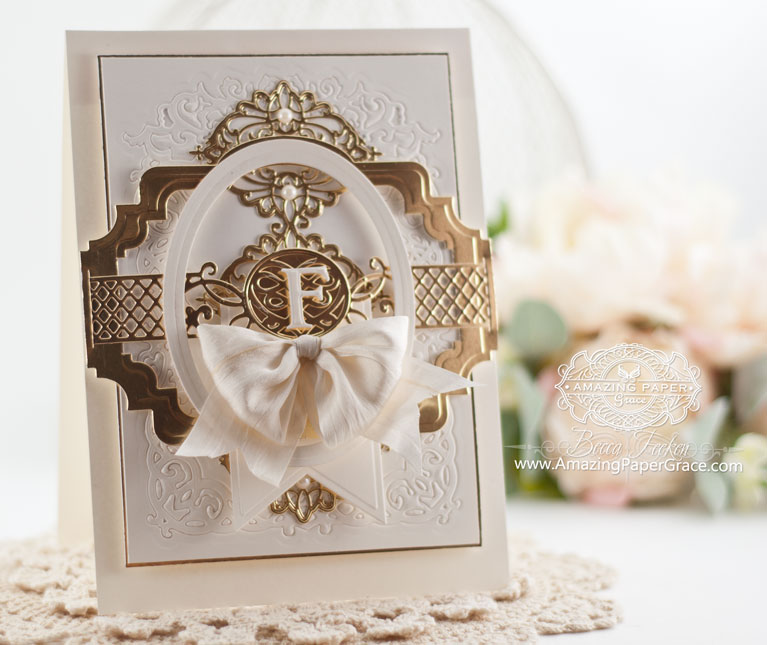 So let me share, every needs their own monogram card.  Yep, that's right.  It could be just a quick and simple card that has an oval, your intials and a bit of ribbon or it can be your gussied out version.  Why?  Because they are a part of your handwritten note arsenal.  Sometimes the thing that holds us back from getting the card in the mail, especially as handcrafted card makers, is that we haven't made it yet.  You know what I mean, you haven't found the perfect paper or you haven't found the perfect rubber stamp, the perfect dies have not popped up in your inspiration.  What comes to mind is that saying 'don't let the perfect be the enemy of the good' – really, don't!  Having a simple and a glorified monogram card in your tool box will help you out of so many situations – from clean and simple to fancy – both are dignified.  They stand in wonderfully for Miss You, Thank You, Sorry, Birthday, Anniversary and Condolences more than any stamp I can think of (and you know how I love stamps).  More importantly what an excellent what a way to be you, open it up inside and show the essence of your own handwriting.  Oh, and what I mean by the essence of your own handwriting is not that you write as a calligrapher, but that it is authentically you, these are thoughts and emotions that you poured onto the page.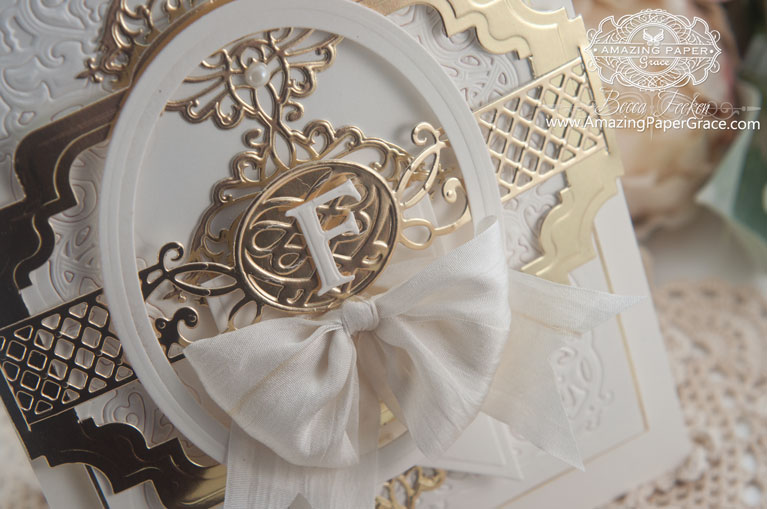 So today I share one of my gussied out versions (and yes, I do have a very simple version). It looks complicated but it's not – I'll tell you about the layers, from the bottom up, and you can inprovise from there.  I started with a 5-1/2 x 7-1/2″ base.  I added a panel just large enough to emboss, not cut Spellbinders Floral Affair and I matted it with gold.  On top of that and glued directly to paper I placed Spellbinders Elizabeth Border Strip.  At the bottom of the border strip I glued a small bunting from Spellbinders Baby Buntings.   On top of that I added Spellbinders  Belly Band One as a frame (both largest dies cut at the same time).  On top of that I added Spellbinders Romantic Agenda with the letter "F" from Spellbinders Font One – Uppercase.  The last die I added was Spellbinders Classic Ovals LG cut as a frame (ETA – oops the larger of those two ovals is actually the Oval from Spellbinders Oval Floral).  To finish I added a small bow and three pearls.
So there you have it, I'm a lover of monograms and it's no surprise that I am drawn to fonts and letters and alphabets.  It's such a nice way to honor your name and part of your identity.  I hope you'll stake out a monogrammed card of your own that makes it easy to send your thoughts.

Rubber Stamps: None
Craft Paper: Neenah Classic Crest 80lb Natural White, The Fine Touch Poster Board – Hobby Lobby
Ink:  None
Accessories:  Spellbinders Floral Affair, Spellbinders Romantic Agenda, Spellbinders Elizabeth Border Strip, Spellbinders Classic Ovals LG, Spellbinders  Belly Band One, Spellbinders Font One – Uppercase, Spellbinders Baby Buntings, Silk Ribbon

Thanks so much for taking the time to stop by.  This was something I truly loved to share.