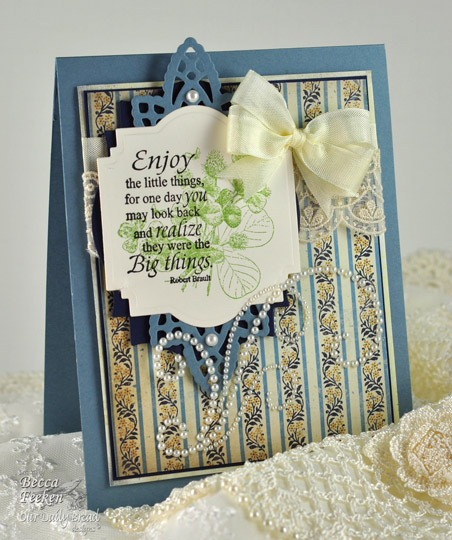 Blog friends, ten days since my last blog post is a long time, I know.  I had a number of deadlines to meet as well as the preparations to go out of town to spend time with family.  On top of that, I've had a steady stream of doctor appointments that continue in the coming weeks.  I'll be honest, the doctor stuff has had me so stressed out that I haven't been able to blog.  I've not been one to ignore my health but with the hip pain and such that I've had as of late, I've not backed down from the doctors who have shrugged and mused that perhaps it's just arthritis.  Well as this point, if it is just arthritis, I'll be relieved and will be going out to celebrate.  If you can spare a prayer, please say one for me to get me through this trial and to shoo away the worry.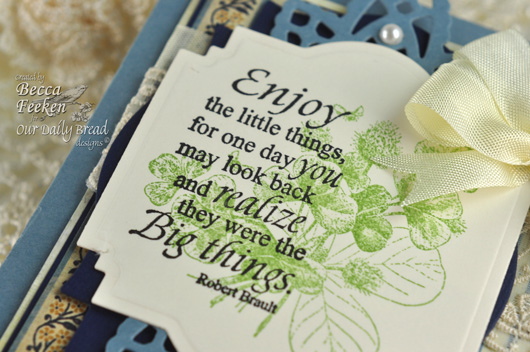 I sat down to make a quick card today and of course the sentiment is something that resonates in my heart.  The sentiment is from this months release with Our Daily Bread Designs and is called Little Things and the background clover image is from Simple Things.  I made my main panel a vertical one my layering Spellbinders™ Labels Eighteen followed by a small motif with Spellbinders™ Lacey Doily Accents and topped off with Spellbinders™ Labels Twenty Two. 
When I was traveling this past week, I was without internet because I didn't carry my ailing laptop with me.  I missed the opportunity to wish you all a Merry Christmas, but you know it was in my heart.  I hope you all had wonderful time, warm memories and the sweet company of family.  I was with my kids – since one could not get off from work, we basically took Christmas to him.  The ability for the four of us to be together was priceless.  Take care friends, I promise ten more days will not go by.