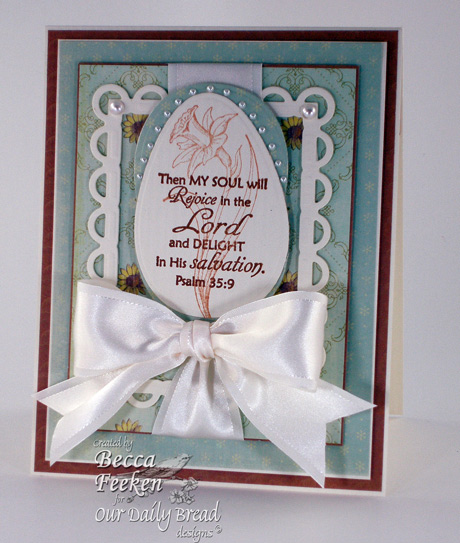 Greetings!! With Easter approaching so quickly my thoughts turned to several of the new stamps sets revealed this month with Our Daily Bread Designs. I decided to use both the Happy Easter set and Easter Blessings set to make a card. I picked from my favorite Spellbinders™ Scalloped Edge Frame and also used Spellbinders™ Nested Eggs for the sentiment. For the eggs, I matted the focal image by flipping the shape.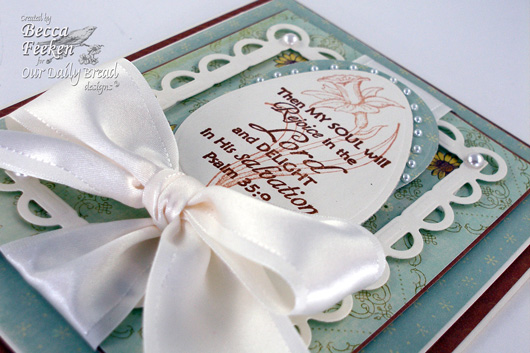 Not sure why, but the green color on the card is coming out much darker than the light, cool, minty green it is in real life. Oh yeah, by the way, Happy Spring!! Have I mentioned that I have a bad case of spring fever? Yep, I've got it bad . . . today was beautiful outside and I was out in it :-) Hope you find the time to enjoy to change in seasons and the fresh, fresh air!

Card Recipe:

Stamps: Our Daily Bread Designs – Easter Blessings, Happy Easter
Paper: The Paper Company, K & Co.
Ink: Vintage Photo Distress Ink, Tea Dye Distress Ink
Accessories: Spellbinders™ Scalloped Edge Frame, Spellbinders™ Nested Eggs, Ribbon, Pearls
Be blessed my friends!
ETA: I'm getting many emails asking me specific questions about the jumbo scalloped punch I used for the Butterfly Card. It drives me nuts that EK Success doesn't put the name of the punch on the punch. I guess I thought you could see it at the EKSuccess website, but it does not appear to be there. After some research, I found out that the name of the black punch I used is called Embossed Curve and the product number is EK-EKPL8030. I purchased mine at Michaels. I hope this helps :-)