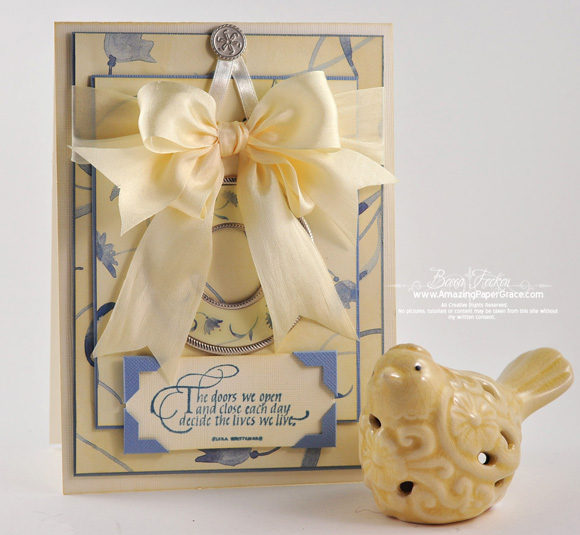 Hi there blog friends!!!  I'm so excited because I have a new bow to share made using my Peg Bow Maker!!!  This was originally one of those things that went wrong and I kept looking at it and really, really liked it.  After a couple of days of testing it out, I figured out how to make it consistently and can share it with you on a video.  Now it's an elegant, decadent looking bow, but then you're not surprised, are you?  Okay, so I pulled together a quick sample card to show you what the bow looks like.
About the card…I dug out this round medallion originally made by K and Company.  Of course it was something I hoarded, until it was no longer current and I had completely forgotten about it – why do I do that??!!?   I'll list it in my recipe but you probably cannot find these medallions.  Heck it was so old that the resin had yellowed — in fact, I had to distress the matching paper with Antique Linen Distress Ink.   But, it perfectly matched the ribbon I wanted to use to make the sample card, lol. This is a 5″ x 7″ card that I included two matted layers.  I glued on the medallion, added the bow and at the bottom, my sentiment by Quietfire Design (a new one) called The Doors We Open and Close.  How true is that?
SUPPLIES I USED
Stamps: Quietfire Design – The Doors We Open and Close
Paper:  K and Company, Strathmore Acrylic, Bazzill
Ink: Stormy Sky Distress Ink, Antique Line Distress Ink
Accessories: Martha Stewart Photo Punch, K & Company Medallion, Ribbon

After a year online, this video was retired. I spent a year perfecting the bows and techniques and remade all the videos into a collection I'm really proud of. This particular bow is now tied very differently after I refined the technique. The collection can be found on the DVD that accompanies the professional looking version of the bowmaker – HERE.
This was a fun make today – time goes fast when I have the music on.  I was up early and me and my ipod were in concert in the studio this morning, lol – oh, and we were hot!!  In fact, Rascal Flatts and I messed up a couple of sheets of pricey cardstock this morning because we got carried away.  It's a little know fact that I sing all the time.  I'm sure for some people it's horrible, but I can't help it – my husband must have learned how to tune me out because he never said anything.  I am that lady in the car next to you who is definitely singing and bopping and the only way I'd be embarrassed is if you heard me.   To this day I don't know how people walk around with head sets on, listening to music, without having to tap their feet or sing?  And I listen to everything…in the studio it's Rascal Flatts or Journey, in the car it's Casting Crowns, in the house it's Usher or Michael Buble, in the shower it's . . . well, you get the picture.  Every where music, every kind of music. 
So who or what are you singing today?
I have some low key candy I'm going to give out today if you are brave enough to leave a comment and tell me us :-)  I have some 12×12 sheets of double sided dreamy Prima paper (10 of them I think) that will go out to one winner.  I'll pull a random name on Friday, how about that?