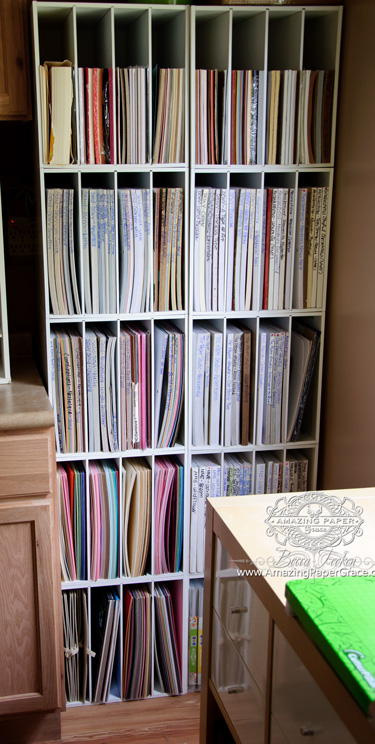 Hi blog friends!  I guess you can say that my desperation took over and out of frustration comes order :-)  I am serious though, I'm not showing you this so you can do it, I'm just showing you what I did; I get requests to show this all the time.
For the past year my studio has been in a constant state of chaos.  I have a studio that's detached from my house that is in need of repair and pretty much has to be emptied so I took over a space inside the house.  Mine is a working studio that probably doesn't really rate for prime time; it's tidy, but I leave things out so that I can be inspired by them.
Slowly but surely I'm putting things into place, so in the only vertical space I have available in the room I employed these wonderful cubes from Michaels that I've seen everywhere.
Although not within arms reach, I can roll my chair over to sort through colors.  I use a sharpie to write on the spine and sort by manufacturer.  My solid cardstocks are in cubes on the left side and design paper in cubes on the right side and I put a red dot on Christmas papers.  These are my current papers – my older papers are still in my other workspace waiting to be sorted so they can go to a local entity that will use them :-)
(Disclaimer:  I can only take responsibility in my own environment and although this works in my environment with the anchors I've put in place, be safe and check with the manufacturer for safe stacking guidelines with your brand in your environment). 
Are you in a space where you have to make every inch count?  How are you storing your papers – inquiring minds want to know!